Free speed: Six ways to make yourself and your bike more aero without spending money
You don't need to spend a fortune to get aero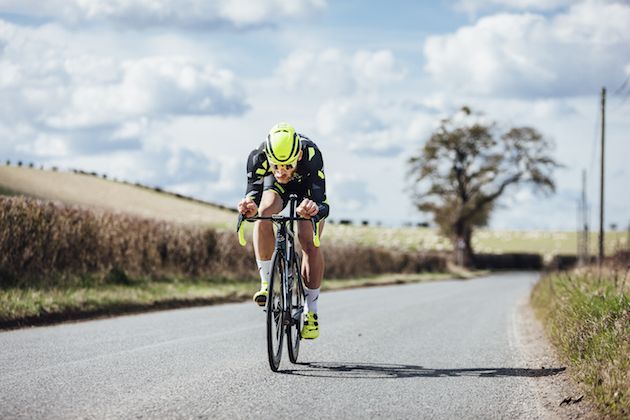 (Image credit: Cycling Studio)
A few years ago and all that any cyclist worried about was weight. Whether that was the weight of your bike or the weight of yourself, shedding a few grams or kilograms seemed like the best way to go faster.
However nowadays aerodynamics is the name of the game, and unless you're climbing up some pretty steep hills then reducing the wind resistance of your bike and yourself will help to up your average speed and drop your mates.
It might be tempting to throw money at the problem to get more aero, but there are plenty of things you can do to go faster that won't cost you a single penny.
1. Lower the front end
The obvious place to start in the search for free speed is your position on the bike. However much money you spend on an aero bike and equipment, the vast majority of the aerodynamic drag slowing you down will be caused by your body.
Most bikes are sold with around 2.5cm of spacers underneath the stem, which itself is often pointing upwards, forcing you into a pretty upright position on the bike.
>>> Should you slam your stem: yes or no?
To solve this, trying flipping the stem so it is flat and remove a spacer or two from underneath the stem. However be sure not to make too dramatic a change in one go, as this will at best make you uncomfortable and at worst lead to injuries.
2. Improve your flexibility and core strength
If you're struggling to maintain a lower position with a flat back on longer rides, then there's plenty of work that you can do off the bike to improve your comfort in such a position.
The first thing you should do is work on your flexibility, focusing on stretching your hamstrings, glutes and lower back. You should also try to improve your core strength which will not only help you stay comfortable in a low aerodynamic position, but will also improve your pedalling efficiency.
If you're not sure how to stretch these areas or improve your core strength, then this one-hour weekly routine can help get you started.
3. Change your bottle cage position
It's all very well having a high-tech aero bike to save you X amount of watts, but if you then chuck two 750ml bottles into the equation then all of the gains from those super sleek tubes will probably be left in the garage.
If you're riding only a short distance, such as in a criterium or a 10-mile time trial, then the best solution is probably to ditch the bottles altogether, not only to improve aerodynamics but also to reduce weight.
>>> Power vs aerodynamics: how to get the balance right
However for most rides you're going to want to have at least one bottle with you. It might be easier to reach a bottle on the down tube, but placing it on the seat tube is the more aero choice.
4. Change your hand position
https://www.youtube.com/watch?v=MVxK9VVOkQY
It might seem like a relatively minor thing to do, but changing the position of your hands on the handlebars can make a significant difference to your aerodynamics.
Our own testing showed fairly significant differences between different positions, with riding with straight arms and your hands on the drops saving you 30 watts compared to riding with straight arms and your hands on the hoods.
However, slightly surprisingly, riding with bent arms and your hands on the hoods was actually more aerodynamic than riding in the drops, saving you a whopping 50 watts compared to riding at the drops at speed.
5. Zip up your jacket
Even at a professional level it's amazing the number of riders you see riding along with jackets or jerseys flapping around in the wind, making a sizeable impact on their aerodynamics.
This is fine if it's sweltering and you're climbing some monster HC climb in the Alps, but if its windy and you've got a bit hot and have your jacket or gilet unzipped then you can almost feel yourself being slowed down as the air is trapped in the space behind your shoulders.
The answer to this is either to zip it up properly, or if you're feeling a bit warm then take it off completely, making sure that your outer layer is packable enough to be rolled up and put in a rear pocket.
6. Zip tie your cables
If you're feeling especially fastidious about saving yourself a few watts and reducing the aerodynamic drag of your bike, then how about keeping all those cables at the front of your bike wrapped together with cables.
You'll want to make sure that you don't pull the cables too tight and affect your braking or cornering and we're not going to pretend that you're really going to notice the difference out on the road, but at least your front end should look a bit cleaner
7. Cling film your helmet
Aero helmets are all the rage nowadays, but if you don't want to splash the cash on a helmet that might have you over-heating in the height of summer, then try covering your existing helmet with cling film.
You might get a few odd looks from anyone who looks closely, but just pretend you're Mark Cavendish winning the 2011 World Championships and you'll be fine.
Thank you for reading 5 articles this month* Join now for unlimited access
Enjoy your first month for just £1 / $1 / €1
*Read 5 free articles per month without a subscription
Join now for unlimited access
Try first month for just £1 / $1 / €1
Henry Robertshaw began his time at Cycling Weekly working with the tech team, writing reviews, buying guides and appearing in videos advising on how to dress for the seasons. He later moved over to the news team, where his work focused on the professional peloton as well as legislation and provision for cycling. He's since moved his career in a new direction, with a role at the Department for Environment, Food and Rural Affairs.