Gianni Meersman: 'My cycling friends are abroad, it hurts. Meanwhile, I'm sitting at home alone'
Gianni Meersman, who was forced to retire from cycling at the end of December with a heart condition, talks about the pain he is enduring watching his friends train and race abroad, while he is home alone.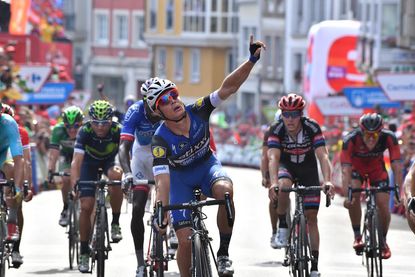 (Image credit: Watson)
In an emotional interview, Gianni Meersman has revealed how much he is missing being a professional cyclist since his forced retirement due to a heart condition.
The Belgian was diagnosed with cardiac arrhythmia and a scar tissue on his heart during a routine medical check last December, which doctors warned him posed a major risk to his health. The 31-year-old, who was due to join Fortuneo-Vital Concept from Quick-Step Floors, retired immediately.
Although he says it was the right decision to call time on his career, seeing his former colleagues on training camps and in races has upset Meersman, who revealed that mundane day-to-day jobs around the house are not satisfying his appetite to do more meaningful work.
"I did not hesitate [about retiring] for a second, but now all my friends have gone abroad, it hurts," he told the Belgian broadcaster Sporza.
"In the first week it was quite easy to cope with it but in the last days it's becoming more difficult. Most of my cycling friends are in foreign countries, competing or on the podium. If you see those pictures, it hurts.
"My wife works and my daughter goes to school. Meanwhile, I'm sitting at home alone. I watch some movies, try to keep the house in order. All the stupid things so I don't sit still. I'm not made to sit in my house the entire day or to work from 9 to 5."
Meersman, who won two stages of the 2016 Vuelta a España, added that he hasn't rode a bike since learning about his condition. "When I heard the news, I was out on a training camp. I put my bike away and went straight home. Since my farewell I have not cycled one metre.
"Looking back I don't regret it. Recently my daughter, who is 6, told me: 'Dad, I'm so glad that you are at home more now'. Then I said that I won't cycle again because I feel I would be horrified."
The winner of eight WorldTour races from 2008 to 2016, Meersman has occasionally ventured outside for a run "with music in my headphones... in my own world" but it is cycling that pains him. "That's what I miss the most," he said. "Standing in the shower after a win and realising I've done it."
He says future employment will probably not be in cycling, but that he would "like to help some young riders to make their dreams come true".
Thank you for reading 20 articles this month* Join now for unlimited access
Enjoy your first month for just £1 / $1 / €1
*Read 5 free articles per month without a subscription
Join now for unlimited access
Try first month for just £1 / $1 / €1