The hardest time trial in the world? Riders suffer at Dutch Headwind Championships (video)
Dutch riders take time trialing to an extreme as they battle force nine gales along a storm barrier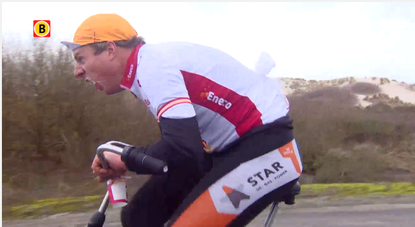 >>> Ultracyclist sets world record for cycling 2,800km on a turbo in six days (video)
The Netherlands can be windy, very windy. And as the Dutch love their cycling, it seems these two ingredients were probably the catalysts behind the somewhat mad creation of the Dutch Headwind Cycling Championships.
Taking place on the Oosterscheldekering storm barrier that faces out on to the North Sea, competitors must ride the hellish 8.5km course into a 90kmph head wind, and not only that, they've got to do it on upright single-speed bikes, just to make it that little bit harder.
The event was organised within two days according to the video, as organisers waited for the 'perfect' conditions to hold the championships, and as you can see below, it looked pretty damn difficult.
The winner, Wouter Mesker, finished with a time of 18 minutes and six seconds, averaging over 28kmph, which is impressive stuff. Former pro mountain biker Bart Brentjens, who was defending champion, managed to place ninth after somewhat understating the weather conditions by saying "it's pretty bad today."
Thank you for reading 20 articles this month* Join now for unlimited access
Enjoy your first month for just £1 / $1 / €1
*Read 5 free articles per month without a subscription
Join now for unlimited access
Try first month for just £1 / $1 / €1