Helmets should be compulsory for cyclists says Tour de France winner Geraint Thomas
The Welshman winner was speaking to the Sunday Times Magazine when he suggested law should enforce riders to wear helmets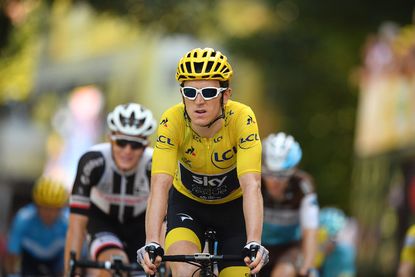 (Image credit: Yuzuru SUNADA)
Tour de France 2018 winner Geraint Thomas says he believes helmets for cyclists should compulsory.
Thomas was speaking to the Sunday Times Magazine when he suggested that a compulsory helmet law would help keep cyclists safer.
The suggestion is contrary to the UK's biggest cycling entities, like charity Cycling UK, which has said there is "no justification for making helmet-wearing compulsory" and that a law could "undermine levels of cycle use."
>>> Government review considers forcing cyclists to wear hi-vis and helmets
"I would certainly make helmets compulsory," Thomas said. "I always wear a helmet.
"I've put on a helmet more times than I've buckled a seatbelt.
"Helmets have come on a lot — well ventilated, not too hot, you don't look stupid — no reason not to."
Thomas later responded to the reaction to his comments on Twitter, saying the helmet issue is "nothing I've ever thought about."
While helmets have been compulsory for riders like Thomas in bike races since 2003, only two countries, Australia and New Zealand, require all cyclists to wear a helmet. Some other countries enforce helmets for children only.
The highway code in the UK doesn't demand helmet use, but recommends cyclists use one.
Critics of a mandatory helmet law like Chris Boardman, British Cycling policy advisor and Manchester cycling and walking commissioner, say that a law would predominantly do damage through a drop in cycling rates.
"All over the world, countries with the highest use of safety gear are the most dangerous for cyclists," Boardman wrote in 2017. "Wherever helmet use has been made compulsory, there has been no corresponding drop in head injury unless there is also a drop in cycling rates.
"About 110 people are killed each year while cycling on our roads, almost all of these resulting from a collision with a motor vehicle, where the protection offered by a cycling helmet is negligible.
"In the UK 1 in 6 deaths - nearly 90,000 per year - is as a result of physical inactivity related disease including diabetes, heart disease and cancer. Clearly, any measure proven beyond doubt to reduce peoples likelihood to travel by bike, will almost certainly kill more people than it saves."
In his interview, Welshman Thomas also said he had "never ridden a bike in London," but added that "I've watched from a taxi and it does seem a bit crazy. "
Thank you for reading 20 articles this month* Join now for unlimited access
Enjoy your first month for just £1 / $1 / €1
*Read 5 free articles per month without a subscription
Join now for unlimited access
Try first month for just £1 / $1 / €1