Hill Climb Country: Taking on Derbyshire's seven National Hill Climb ascents
Derbyshire has hosted the National Hill-Climb Championships more than any other county. Simon Warren rides each of the seven hills used — in one day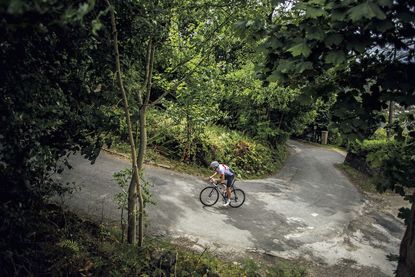 Derbyshire has hosted the National Hill Climb Championships more than any other county.
So when Cycling Weekly set me the task to devise and ride a route that linked all seven of the hills that have been used, how could I refuse? Those seven venues, Bank Road, Holly Lane, Long Hill, Peaslows, Riber, Rowsley Bar and the mighty Winnats Pass, have dished out a huge amount of pain to a multitude of legs over the years but has anyone ever attempted to tackle them all in one ride?
As there are two climbs in the town of Matlock, I choose that as my start and finish point, but to avoid starting with going up a 25 per cent incline, I first head south out of town to ride Holly Lane, which kicks up out of Ambergate. I'll leave the double-header of Riber and Bank Road for the end — my legs will love me for that.
1 Holly Lane
Length 1,100m, Height gain 123m, Max gradient 14%, Average gradient 11.2%, Years used 1946, 1955.
www.strava.com/segments/618526 (opens in new tab)
Holly Lane was first used in 1946 as the course for the third incarnation of the event, won that day by Vic Clarke from the Manchester Clarion C&AC, and it held the championships once more, nine years later in 1955. Leaving the flat valley road that follows the course of the River Derwent, you turn west, cross a small bridge and the climb ramps up, twisting first left and then right through a small wood.
To be honest it is a rather unremarkable road and it puzzles me as to why it would be picked as the showcase event with maximum gradient of just 14 per cent. Then I remember 14 per cent on a heavy steel bike and tractor tyres must have felt a whole lot steeper in 1946 than it does on today's carbon-fibre machines.
Once you break free of the woods, the toughest part of the climb is behind you, but if you've been pushing hard you'll be deep in the red and it's still a long way to the top. Keep going past the turning onto Whitewalls Lane, grind up through the farm buildings then as the slope recedes push onto the summit where the road plateaus. One down, six to go, and up next is the best of them all, the one and only Winnats Pass, although it's 50 very lumpy kilometres away.
2 Winnats Pass
Length 1,680m, Height gain 198m, Max gradient 22%, Average gradient 11.7%, Years used 1947, 1949, 1953, 1957, 1959, 1963, 1966, 1967, 1972, 1977.
www.strava.com/segments/6698034 (opens in new tab)
Winnats Pass was almost the permanent home of the championships for a while, holding the event 10 times between 1947 and 1977, and anyone who has ever ridden it can see why. If you were to build a venue from scratch then this is exactly what it would look like.
A punishing, unrelentingly steep gradient that touches 25 per cent in places set in a natural amphitheatre capable of holding tens of thousands of people, all of whom will have uninterrupted views of the competitors almost all the way up.
Looking back at old black and white photos, this is pretty much what it was like but then in 1974 'tragedy' struck. It was possible to close Winnats for the event because the A625 linking Castleton and Chapel-en-le-Frith used to bypass the gorge and run round the south face of Mam Tor; however, following a huge landslide, this road collapsed. It was patched up and repaired for a number of years but subsequent subsidence and further landslides led to it being abandoned in 1979, forcing all through-traffic up Winnats, as it still is today.
To close the road now would cut off a major through route, and although it has been done for sportives, it will take some convincing for authorities to close it for the best part of a day.
The climb kicks up as you leave the A625 and turn left towards the gorge as the early slopes gradually ramp up all the way to the car park, forcing regular gear changes as the gradient increases.
Across the cattle grid and you're into the meat of the climb where the slope approaches its 20 per cent maximum, then as it bends right the fun begins. From here to the top requires total commitment to preserve forward momentum as the severity of the slope never backs off and in fact gets even steeper as it bends left to a brow before the second cattle grid.
And it doesn't end here, if you're chasing the KOM you must push hard almost all the way to the junction, where, if following this route, you turn right to head to the next target, Peaslows.
3 Peaslows
Length 1,625m, Height gain 172m, Max gradient 17%, Average gradient 10.6%, Years used 1945, 1964.
www.strava.com/segments/6820268 (opens in new tab)
The venue for the second ever National Champs and the first in Derbyshire was Peaslows, rising away from the A6 just to the east of Chapel-en-le-Frith. It was here that R. J. Maitland and E. Wilson were crowned champions in 1945 and 1964 respectively.
Following the long descent from the top of Winnats, turn left onto Blackbrooke Lane then left again to drop down to cross Black Brook, then ramp up though the small wood. Peaslows is a straightforward climb, no corners, no sudden changes in gradient, just a slog from base to summit.
It's hard work right away then eases somewhat as you exit the trees as it picks its way up between the stone walls. Ahead, a series of fake summits present themselves, each one a false promise of the actual top, each one hitting your morale a little bit as the substantial but not ferocious gradient eats away at the strength in your legs.
On the exposed upper slopes wind direction can make all the difference, so pray for a tailwind to allow you to stick it in the big ring and smash it over the final gentle slope to the brow.
From here drop down into Sparrowpit then turn right onto the A623 but careful on this road as it's always full of trucks. Drop down the busy road back into Chapel-en-le-Frith and make your way east to Whaley Bridge and the base of — and I can't believe I have to include this — Long Hill.
Local knowledge
Where to stay
As the ride starts and ends in Matlock, it makes sense to base yourself here; there are plenty of hotels, as you would expect in a busy tourist town. Glendon B&B has secure cycle storage.
Where to eat
Castleton is packed with cafes and the Bull's Head pub has good food but don't overeat as Winnats Pass is up next! A slight detour brings you to Cafe Adventure in Hope, a firm favourite with cyclists.
Bike Shops
If you suffer a mechanical out on the route or want to fit a bigger rear sprocket, then check out 18 Bikes in Castleton for repairs and spares or Stanley Fearn Cycles in Matlock at the start and finish of the ride.
4 Long Hill
Length 7.52km, Height gain 241m, Max gradient 6%, Average gradient 3%, Year used 2011
www.strava.com/segments/612792 (opens in new tab)
Never in the history of the championships has the event been as disrespected as when Long Hill was chosen as the venue.
Yes, long, shallow climbs such as the Cat and Fiddle and Cheddar Gorge have been used in the past, and these have favoured time triallists and road men over pure hill-climbers, but Long Hill, in my opinion, was a step too far.
With an average gradient of just three per cent and a maximum not much steeper, seeing pictures of riders whizzing up on aerobars and disc wheels turned my stomach.
This was not a hill-climb, it was an uphill time trial, and yes, there's a big difference. That aside, it is a lovely road to ride as it snakes up above the River Goyt, past the reservoirs and through the rolling hills into Buxton. But it's not really a hill, not in my books anyway!
5 Rowsley Bar
Length 1.9km, Height gain 213m, Max gradient 20%, Average gradient 11%, Year used 1997
www.strava.com/segments/682318 (opens in new tab)
With the abomination of Long Hill out of the way, it's time to head back to the steep stuff and next on the list is Rowsley Bar, the venue for the 1997 race, where Stuart Dangerfield took the last of his five titles.
Now, when I wrote my book, 100 Greatest Cycling Climbs, I set the top at the end of the steep part as you exit the woods as this is where the hill-climb course ends, but to really conquer Rowsley Bar you must push on for another 800 metres almost to the junction with Bent Lane, gaining an extra 75 metres of elevation.
The climb is hard from the base, kicking up from the B6012 towards the right-hand bend ahead. For a while the slope recedes but as you enter the woods it rapidly builds again to climax with two leg-breaking corners, first left, then right, the tarmac ripped to pieces under your wheels — nature and the local council's way of making a punishing finish even more arduous.
Once through these bends there's no let-up in the severity of the slope until you exit the woods from where you are faced with a gentler but equally challenging push to the top.
The horizon never seems to be getting closer but stick at it, find a good rhythm and you will get there — look back for one of the best views in the Peak when you do. Then return to Matlock to finish with a double whammy of lung-busters.
6 Bank Road
Length 1.06km Height gain 112m Max gradient 25% Average gradient 11% Years used 2008, 2016
www.strava.com/segments/6677679 (opens in new tab)
The first of the two Matlock climbs has held the championship twice this century already: in 2008 when Matt Clinton triumphed up its hideous 25 per cent slopes, and eight years later when Adam Kenway took the crown. This is a true hill-climber's hill, short and viciously steep, and one that has seen the best crowds witnessed at the event since its heyday on Winnats Pass.
Offering a clear line of sight down the arrow-straight road, spectators are able to track the competitors as they lurch over their bikes, grimacing with the pain, their veins about to burst, eyes ready to pop and legs and lungs raw with the effort.
I steered clear of the championships both those years...
From the bottom at the roundabout in Matlock to the summit at the bus stop on Wellington Street, you cover just over a kilometre at an average gradient of 11 per cent. Beyond the stats, it's the fact that you can see so much of the road ahead of you that breaks your mind.
7 Riber
Length 1.06km, Height gain 112m, Max gradient 25%, Average gradient 11%, Year used 1986
www.strava.com/segments/6677656 (opens in new tab)
And that just leaves Riber, and in true Hollywood style, I have left the best for last. OK, Winnats Pass is the most beautiful but Riber is the most fun, most ridiculous and most perfect hill-climb course. The road kicks up from the A615 with a short, sharp ramp, then eases back up to Highfields School.
It's here that the annual Matlock CC hill-climb starts with a moderate rise up the Starkholmes Road for some 500 metres before a short plateau and then a dramatic finale.
Ahead you will see the road rocket upwards to your left on a crazy gradient and you'll gulp as you send your chain clattering across your sprockets. On the brief levelling you must rest from the initial effort of the early part of the climb yet still build as much speed as you can to propel yourself into the harsh gradient.
Forget riding on the left of the road, it's too steep, so you are forced right — keep your head up in case anything is coming the opposite way. From now on, the slope barely drops below 20 per cent as you crawl past the hillside houses bending first right, then a while later through a brace of corners where the slope hits 25 per cent. Exiting these bends with broken legs and breathing out your ears, you must push on up to the final left turn and then tackle the agonising grind to the summit where you will collapse over the bars.
And there you have it, ride this loop of seven famous hill-climb courses and you will have ridden in the wheeltracks of just about all the best climbers that have graced the event over the past 74 years. And if you want, once you've ridden them then try racing them — all bar Winnats hold open races each season, and you never know, if the right organiser comes along with the right persuasive powers then one day we could see the event return to its spiritual home up the famous gorge. I can't wait to spectate.
Thank you for reading 10 articles this month* Join now for unlimited access
Enjoy your first month for just £1 / $1 / €1
*Read 5 free articles per month without a subscription
Join now for unlimited access
Try first month for just £1 / $1 / €1
Simon has been riding for over 30 years and has a long connection with Cycling Weekly, he was once a designer on the magazine and has been a regular contributor for many years. Arguably, though, he is best known as the author of Cycling Climbs series of books. Staring with 100 Greatest Cycling Climbs in 2010, Simon has set out to chronicle and, of course, ride the toughest cycling climbs across the UK and Europe. Since that first book, he's added 11 more, as well Ride Britain which showcases 40 inspirational road cycling routes. Based in Sheffield, Yorkshire, Simon continues to keep riding his bike uphill and guides rides, hosts events and gives talks on climbing hills on bikes!