Ian Stannard and Luke Rowe put in 'extra effort' to lead Sky during 2016 Classics
Team Sky's Classics squad have already trained on sections of the Tour of Flanders and Paris-Roubaix routes, as DS Servais Knaven says "they're really up for it" - Geraint Thomas absent due to house move - Michal Kwiatkowski joins group for first time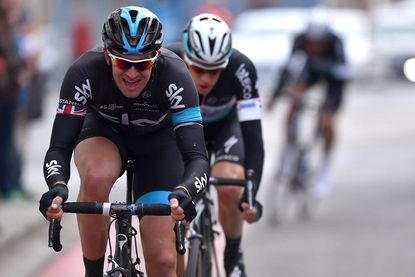 (Image credit: Watson)
Ian Stannard and Luke Rowe joined Team Sky's Classics group to put in an extra effort by reconnoitring both the Tour of Flanders and Paris-Roubaix courses on Monday and Tuesday. Sky's head classics sports director, Servais Knaven said: "No other team does it this early as a group."
Still with four months until Flanders, a group of nine met on Monday morning in Belgium, on the last day of November, to ride four hours of the course. They slept that night in Oudenaarde and the next morning, travelled over the border to France to ride 90 kilometres of Paris-Roubaix, from the Arenberg section through Carrefour.
Knaven's hope is that this early bonding experience will help one of his stars, like Brits Stannard and Rowe, win a coveted monument.
>>> A lovely day for the cobbles: Team Sky recon Paris-Roubaix four months early
"They are not ready yet, it's still the beginning of December!" Knaven said. "Ian and Luke are really up for it. They want the leader's role and want to take the chance.
"Luke made a big step last year, worked a lot in Flanders and was still up there in the final. That was impressive. Also in Roubaix, where he just missed the final group on the last sector. That was big for him and he's still disappointed about that. Luke and Ian work well together and they know each other well. They will be able to share the leadership role in some races."
Geraint Thomas skipped the camp because he was moving apartments, but new hire and former world champion Michal Kwiatkowski was there. Both are expected to also lead Sky in Flanders. Kwiatkowski will then focus on the Ardennes Classics and Thomas the Tour de France.
Knaven hosted a nine-man group for Flanders: Kwiatkowski, Rowe, Stannard, Christian Knees, Andy Fenn, Salvatore Puccio, Elia Viviani, Gianni Moscon and Danny Van Poppel. Only Kwiatkowski did not ride on Tuesday.
>>> Team Sky: Now or never for Geraint Thomas at the Tour de France
"Last year, we did some riding on the Roubaix course with Brad Wiggins, Ian Stannard and Bernie Eisel, but that was also for testing the new bike and just for one day. Now we planned for two days and with a bigger group," added Knaven.
"It's always good to freshen up their minds with the courses. It's no stress now. You don't have to go full gas and you can have some fun, you can see the roads, try the bike with the tyres, and have the whole group.
Watch: The 10 Best Riders Right Now
"When you are at the camp with the whole team you have 25 riders, but here we just had the classics group with the new faces like Gianni Moscon, Van Poppel and Kwiatkowski. It's good to have them all together. It's team building."
Many cyclists live in Belgium or near by and are able to train on the Flanders course or travel to see Roubaix during the winter. With Flanders now ending in a loop, it is easier to preview.
Knaven added, "Maybe some teams are out this time of year with a few riders to test new materials, but most of the time it's not a group."
Sky's 29 cyclists will travel to Mallorca this weekend for a training camp ahead of the Christmas holidays. Afterwards, a group will fly to the Tour Down Under stage race, January 19 to 24, in Australia.
Thank you for reading 20 articles this month* Join now for unlimited access
Enjoy your first month for just £1 / $1 / €1
*Read 5 free articles per month without a subscription
Join now for unlimited access
Try first month for just £1 / $1 / €1