Icons of cycling: Giant TCR
Mike Burrows's blueprint for the future of bike frames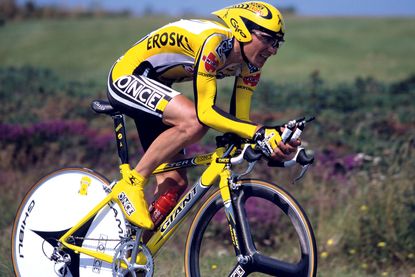 Mike Burrows's contribution to the design of the modern road bike cannot be overstated. If the British engineer hadn't come up with the Total Compact Road — aka TCR — for Giant in the mid-1990s we might still be measuring ourselves up for a frame by straddling the crossbar and yanking it upwards.
Burrows, having spent years in cycle design's hinterlands with his monoblade forks, micro lo-pros and blobby monocoque frames, all regarded as too eccentric for the conservative world of road cycling, finally received mainstream recognition after Chris Boardman won the individual pursuit at the Barcelona Olympics in 1992 on the Lotus bike that Burrows had originally created.
With his vision validated, Burrows found himself in demand and was snapped up by Taiwanese brand Giant, already by the mid-Nineties one of the world's largest bike manufacturers.
It was a smart move on Giant's part as before the advent of the TCR, road bike frames came in at least 10 sizes.
Get your saddle height right
Burrows looked to the mountain bike boom, where most of the innovation in bike design was taking place and where frames with sloping top tubes were made in just three sizes: small, medium and large.
He added to the mix his experimentation with tiny time trial frames that had long aero seatposts and created, at first out of an old mountain bike frame, what would become the father of the modern road bike.
ONCE and for all
The performance benefits were obvious: a smaller main triangle was both stiffer and lighter. The rear triangle was correspondingly smaller, enhancing power transfer.
The Giant Mike Burrows carbon aero seatpost, that came in a number of different lengths and the Burrows adjustable stem meant that it was possible to achieve a bespoke fit.
>>> The top 10 game-changing road bikes
For Giant there were enormous economic benefits, namely that they didn't have to make 10 frame sizes using 10 sets of tooling; they could mass-produce three.
In 1997 Giant took over bike sponsorship of the Spanish ONCE team. Sponsoring a pro team was the final piece of the jigsaw for Burrows and Giant.
The radical sloping frame, which jarred aesthetically with the classic horizontal top tube, would need to win races at elite level before road cycling accepted it. And win races ONCE did.
While the rest of the peloton toiled up hills on their conventional machines, ONCE attacked on their spiky yellow-and-black TCRs like a swarm of angry wasps. In team time trials they were unbeatable. It turned out that it wasn't only the TCR that gave ONCE their biggest advantage, but that's another story.
The Union Cycliste Internationale (UCI) initially objected to the Giant's geometry but Hein Verbruggen and fellow Dutchman Jan Derksen, the boss of Giant Europe, sat down together and from that point on every new road bike design was influenced by the TCR.
Today's machines are less radically compact than the original TCR, but they can almost without exception trace their DNA back to Burrows's innovation.
Thank you for reading 20 articles this month* Join now for unlimited access
Enjoy your first month for just £1 / $1 / €1
*Read 5 free articles per month without a subscription
Join now for unlimited access
Try first month for just £1 / $1 / €1