Big Mig's legendary Banesto TT bike could be yours - if you've got £47k spare
Five time Tour de France winner's TT bike available on eBay for a whopping £47,000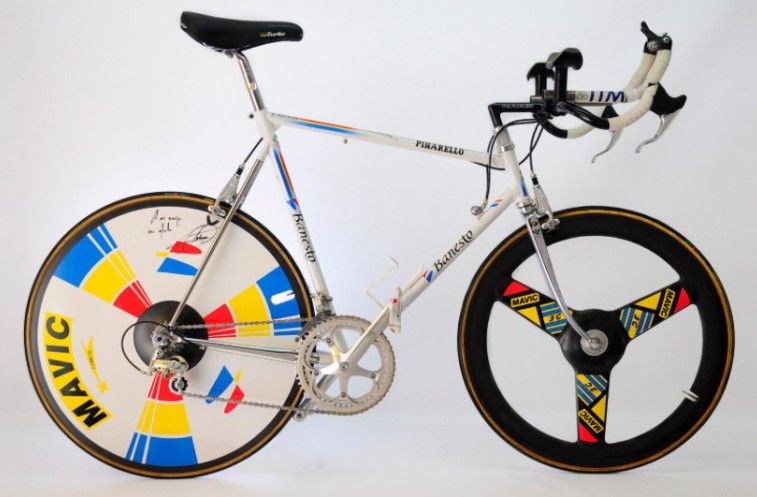 A time trial bike ridden by Miguel Indurain in 1992 - the year of his second of five victories in the Tour de France (opens in new tab) - has appeared for sale on eBay (opens in new tab).
However, the average cycling memorabilia collector shouldn't get too excited: the Banesto branded Pinarello has a starting price of $74,999 (approximately £46,700).
The bike in question was used by the Spanish rider for the first half of the 1992 season until it was replaced for that year's Giro d'Italia (opens in new tab) in May, but held onto by Indurain. According to the seller, the bike was donated for a charity raffle in 1994 in aid of the restoration of the church of San Juan, Cabra, Spain.
Characteristic of the time, but now outlawed by the UCI, the bike has a smaller front wheel to give the rider what was thought as a more aerodynamic position. This, joined with Indurain's strength against the clock and aggressive gearing - 55-47t chainset, were a winning combination for Spain's most decorated rider.
This could be a great addition to Sir Bradley Wiggins' classic bike collection (opens in new tab).
Take a look at every stage of the route of the 2015 Tour de France
If you were a motorcar, your heart and lungs would be the fuel pump and air intake. We look at
Thank you for reading 5 articles this month* Join now for unlimited access
Enjoy your first month for just £1 / $1 / €1
*Read 5 free articles per month without a subscription
Join now for unlimited access
Try first month for just £1 / $1 / €1
Jack Elton-Walters hails from the Isle of Wight, and would be quick to tell anyone that it's his favourite place to ride. He has covered a varied range of topics for Cycling Weekly, producing articles focusing on tech, professional racing as well as cycling culture. He moved on to work for Cyclist magazine in 2017.