KEISSE'S B SAMPLE POSITIVE, SACKED BY TEAM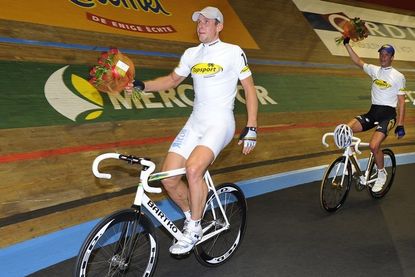 Track star Iljo Keisse has been sacked by his Topsport Vlaanderen team after returning a positive dope test at the Ghent Six in November, which he won with team-mate Robert Bartko.
Keisse tested positive for a stimulant, cathine, and also for a diuretic substance that can be used to mask other doping products. The sample was taken during the final evening of racing at the Ghent Six track event in Belgium on November 23.
Keisse was suspended by his team pending the return of his 'B' Sample, which has now also returned a positive result for the banned substances. Topsport boss Christophe Sercu has subsequently sacked Keisse.
Both banned substances are ingredients of a readily-available decongestant, which Keisse has admitted that he took.
Along with winning the Ghent Six, Keisse was fourth in the Madison at the Olympic Games in Beijing (August 2008) with partner Kenny de Ketele.
RELATED LINKS
Positive test for six day star
Thank you for reading 5 articles this month* Join now for unlimited access
Enjoy your first month for just £1 / $1 / €1
*Read 5 free articles per month without a subscription
Join now for unlimited access
Try first month for just £1 / $1 / €1