Kreuziger to take Contador's spot at Astana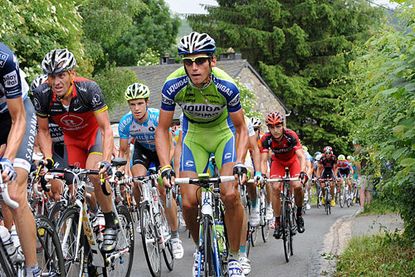 Czech Roman Kreuziger will take over Alberto Contador's spot as Tour de France captain at team Astana next year.
"I am pleased that the team has reached an agreement with Roman Kreuziger," said Alexandre Vinokourov today. "We are currently finalising contracts to submit very soon a new roster for next season that represent with power and pride the colours of Kazakhstan."
Kreuziger joins the Kazakh team after five years with Italian team Liquigas. He finished in ninth place both this year and last year at the Tour de France. He won the Tour of Switzerland in 2008, the Tour of Romandy last year and, this season, the Tour of Sardinia.
He had a contract extension with Liquigas through next season, but wanted space of his own since Ivan Basso and Vincenzo Nibali share the same goals. He paid a penalty to Liquigas to leave one year early.
"I am always sorry when one of our riders wants to leave. However, I can understand that Roman wants to have a team at his disposal. Here there are others: Basso, Nibali, [Peter] Sagan," said Liquigas team manager, Roberto Amadio.
"He has characteristics to win any of the Grand Tours, including the Tour de France. This year, he was not at his best, but he still arrived ninth. In the next years, he is only going to get stronger."
Astana needed a leader for the Grand Tours after Contador announced at the beginning of this month that he would be moving to Saxo Bank. Vinokourov once led the team in the Tour de France, but since he returned from a doping suspension last year, he has become a helper.
However, today's press release indicates that Vinokourov will soon retire as a cyclist and take on a managerial role.
Both Astana and Liquigas are ProTour teams and both have licences that expire at the end of this year. Amadio said that his team has submitted the necessary paperwork to the UCI ProTour Council (UPTC), who will award the licences on November 20.
Thank you for reading 20 articles this month* Join now for unlimited access
Enjoy your first month for just £1 / $1 / €1
*Read 5 free articles per month without a subscription
Join now for unlimited access
Try first month for just £1 / $1 / €1