Lance Armstrong associates agree to pay money to settle part of whistle blower lawsuit
Lance Armstrong's agent Bill Stapleton and business partner Barton Knaggs may avoid further involvement in lawsuit if their offer is accepted by Department of Justice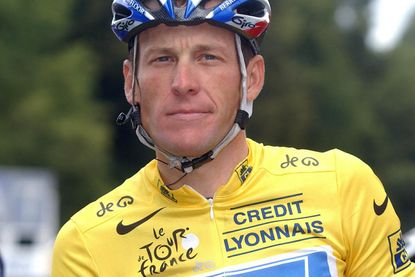 (Image credit: Graham Watson)
The Lance Armstrong whistle blower lawsuit in the US is partly nearing settlement. According to a report in USA Today on Friday, two of the banned cyclist's co-defendants agreed to pay the Department of Justice $500,000 (£320,000) and Floyd Landis' attorney $100,000 (£64,000).
Armstrong's agent Bill Stapleton and business partner Barton Knaggs, and their Capital Sports & Entertainment agency, would be freed from the lawsuit if the US government agrees to the settlement.
Landis rode side by side with Armstrong from 2002 to 2004, helped him win the Tour de France three times and went on to win the 2006 Tour with team Phonak. Officials stripped that win after he failed a testosterone test days later.
The American from Pennsylvania also helped bring down Armstrong by speaking with Jeff Novitzky in the initial Food and Drug Administration case. He filed the lawsuit on behalf of the US government at the same time in 2010 based on his knowledge that Armstrong's US Postal Service team cheated.
Under the False Claims Act, a whistle blower lawsuit allows citizens for the government. If successful, penalties can range up to three-times the amount defrauded or nearly $100m in Armstrong's case.
The government's postal service sponsored Armstrong's team from 1996 to 2004. Based on the US Anti-Doping Agency (USADA) case files from 2012 – which saw Armstrong banned and stripped of his seven Tour wins – he and senior team members cheated the government and its tax payers.
USPS gave $31.9m to the team from 2001 to 2004, according to a ESPN article in 2012, which opens Armstrong and his co-defendants up to $95.7m (£61.2m)
The lawsuit names several other defendants: Tailwind Sports, Montgomery Sports, Thomas Weisel, Johan Bruyneel and of course, Armstrong.
The US Government, according to the article Friday, has until January 30 to decide if it will accept Stapleton's and Knaggs' settlement offer.
Thank you for reading 20 articles this month* Join now for unlimited access
Enjoy your first month for just £1 / $1 / €1
*Read 5 free articles per month without a subscription
Join now for unlimited access
Try first month for just £1 / $1 / €1