Lance Armstrong and Johan Bruyneel hit out at UCI president Brian Cookson over re-election
The former US Postal pair didn't hide their criticism of UCI president Brian Cookson as he bids for another four years in charge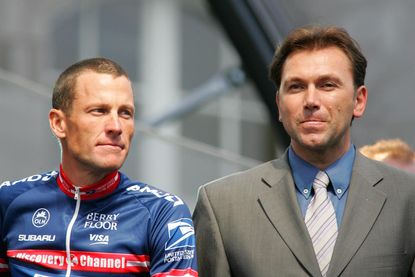 (Image credit: Yuzuru SUNADA)
Lance Armstrong and his former manager Johan Bruyneel, banned for doping offences, embraced enthusiastically David Lappartient's challenge to Brian Cookson's spot as UCI president.
Cookson, former British Cycling president, announced his bid earlier this year for another four years in charge of cycling's governing body.
Frenchman Lappartient, UCI vice-president and head of the European Cycling Union (UEC), put his hat in the ring on Tuesday for the September elections.
"ABC (Anybody But Cookson)," Armstrong wrote in Twitter in reply to Lappartient's announcement.
The Reasoned Decision in 2012 found Armstrong guilty of years of cheating and led to him losing his seven Tour de France titles. He and was given a lifetime ban, Bruyneel 10 years.
Cookson in 2013 campaigned on change to the Pat McQuaid and Hein Verbruggen reign and after winning, commissioned a £1.5 million review, the Cycling Independent Reform Commission (CIRC), looking into past wrong-doings in the sport.
He announced his plan for the next four years, 2017-2021, via a Twitter message earlier this month.
"Brian, I spared myself the time of reading your manifesto," Bruyneel replied. "You wrote a beautiful one 4 years ago, promised heaven and you did nothing...
"You did nothing other than spend 3mm € [sic] on a report which did nothing else than blaming the past 4 ur own benefit. Oh, and many selfies."
Cookson is involved in an independent report highlighting a "culture of fear" in British Cycling. He presided over the British Cycling federation through the years questioned in the report published last week.
Bruyneel replied to an article that pointed out that UK Sport paid £77,000 for Cookson's campaign to become UCI President.
"The same @BrianCooksonUCI who, for the benefit of getting elected, was on a mission to blame the past and promised being the Messiah...?"
Some critics say that Cookson failed to change much over four years. Manager of team FDJ and former Paris-Roubaix winner Mark Madiot backs his fellow Frenchman Lappartient.
"We need a revolution, a full reconsideration of the function of cycling," Madiot wrote in January. "And this requires the election of a new president."
The comment caught Armstrong's eye, who responded, "I've never agreed with Marc Madiot on anything. Until now."
Lappartient promised his "first priority" would be to "strengthen the authority of the UCI with a president ensuring a real and effective leadership role."
Cookson, 65, welcomed a healthy and what could be a heated debate over the coming three months.
He explained, "I note that so far David Lappartient has not set out very much detail in his plan or any vision he may have beyond his well-known personal ambition for the role."
Bruyneel considers Lappartient the clear winner when the federations vote at the world championships on September 21 in Bergen, Norway. He wrote to Cookson, "u will lose big time."
Thank you for reading 5 articles this month* Join now for unlimited access
Enjoy your first month for just £1 / $1 / €1
*Read 5 free articles per month without a subscription
Join now for unlimited access
Try first month for just £1 / $1 / €1