Lance Armstrong's doping guru Ferrari named in WADA's banned list
"WADA is increasingly of the belief that athletes do not dope alone" says anti-doping organisation as it lists banned sports personnel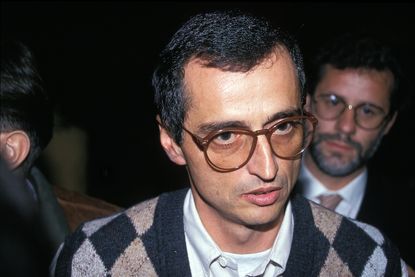 (Image credit: Yuzuru SUNADA)
The World Anti-Doping Agency (WADA) named Michele Ferrari, Lance Armstrong's long-term training guru, in a list of 114 banned support personnel it published on Monday. An association with those named on the list by athletes – even if not caught doping – can lead to a suspension.
The 62-year-old Italian was banned from working with athletes in his own country in 2002 and blocked worldwide in the US Anti-Doping Agency (USADA) case against Armstrong in 2012.
The agency's work showed Ferrari helped Armstrong with EPO, testosterone and blood transfusions during the years he became a Tour de France star. Armstrong lost it all, however, after the case ended. He received a life-time ban and was stripped of his seven Tour titles.
The Program, a film about Ferrari and Armstrong, is out October 16.
"WADA is increasingly of the belief that athletes do not dope alone, and that often there is a member of their entourage encouraging them to cheat," said WADA President, Sir Craig Reedie.
>>> The Ferrari system uncovered
"This new 'Prohibited Association' rule sends a clear message to athletes: do not associate with individuals that have breached anti-doping rules as they could encourage you to cheat the system and to rob your fellow athletes of their right to clean sport."
In Italy, Ferrari's clients – from Filippo Pozzato (Lampre-Merida) to Michele Scarponi (Astana) – served bans over the past years simply based on their association with the man known as 'Doctor Evil'.
On the list published, which WADA said that it will continually update, 61 are Italian. Philip Tinklin is the only Briton named. The father of five boxers received a life-time ban for steroid trafficking.
Sky's former doctor, Belgian Geert Leinders is on the list and banned for life for his work in previous teams.
>>> David Brailsford on Geert Leinders, and why telling the truth is only part of the process
Among the Italians are Guido Nigrelli, owner of the pharmacy at the centre of the Mantova investigation that brought a ban for former world champion Alessandro Ballan, and Carlo Santuccione, who 'helped' Danilo Di Luca and Riccardo Riccò and received a life-time ban in the Oil for Drugs case.
Working with the listed people violates WADA's Prohibited Association article 2.10.
"By publishing this list, WADA is helping athletes know which individuals to evade if they are to avoid violating the rules themselves.
"This list will also assist ADOs (Anti-doping Organisations) as it is their responsibility to advise their athletes of the support personnel that have 'disqualifying status' and the consequences of such association."
WADA published the full list and a related article on its website.
Thank you for reading 20 articles this month* Join now for unlimited access
Enjoy your first month for just £1 / $1 / €1
*Read 5 free articles per month without a subscription
Join now for unlimited access
Try first month for just £1 / $1 / €1