Laura Kenny fears that public perception of TUEs could put youngsters off sport
Laura Kenny is concerned that the negative press and hostility to TUEs could put younger sportspeople off their chosen activity if they require medical substances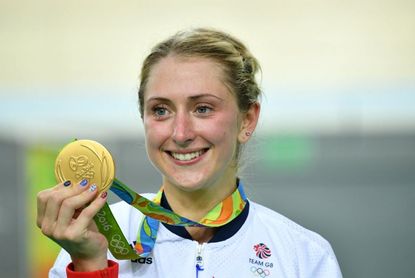 (Image credit: Watson)
The negative press and hostility to therapeutic use exemptions (TUEs) has concerned four-time Olympic gold medal winner Laura Kenny who fears it could affect the younger generation of emerging sport stars.
Kenny, who won the omnium and team pursuit in Rio, was one of many British athletes to have their medical data hacked by the Fancy Bears after this summer's Olympics, which revealed that she was granted a TUE for almeterol and salbutamol between 2009 and 2013, used to relieve symptoms of asthma.
The ongoing saga surrounding Bradley Wiggins's TUEs has led to British Cycling officials, as well as Sir Dave Brailsford, being called before a parliamentary inquiry addressing doping in sport.
While some in the sport have questioned the TUE system, and Brailsford says that all riders should make their TUEs public, Kenny says that the bigger issue is what the public's perception will have on younger athletes who genuinely need TUEs but are averse to applying for them for fear of reprimand.
>>> Laura Trott and Jason Kenny, Britain's golden couple, bring the house down in Rio
"It's frustrating that it [news coverage] has been shown in a bad light, the fact that people need TUEs," the wife of six-time Olympic gold medal winner Jason told Victoria Derbyshire on BBC News.
"For me, I don't want the younger generation to get put off sport if they have asthma. If they have to apply for a TUE, I don't want them to think 'this is really bad, I shouldn't be taking this', because if they actually do need it because they have asthma, it is legitimate, they're allowed to do that and no rules are broken in doing so."
Kenny also said that the leaking of her TUEs caused irritation as it was more than just her medical records that became available to the hackers, who are thought to be Russian.
"When my TUE was leaked I found it frustrating because they are medical documents and stuff like that is very personal," she added.
"It's annoying that that they were able to get into the system so easily. It's not just medical records on there, there is personal information.
"For me, it was lucky because it was asthma and I have been very open [with saying] that I have had asthma. I had a collapsed lung when I was born so needed a TUE."
Thank you for reading 5 articles this month* Join now for unlimited access
Enjoy your first month for just £1 / $1 / €1
*Read 5 free articles per month without a subscription
Join now for unlimited access
Try first month for just £1 / $1 / €1