London's new Santander Cycles hire bike: smaller wheels, better brakes and improved lights
Pashley Cycles created British-made replacement model for London's cycle hire scheme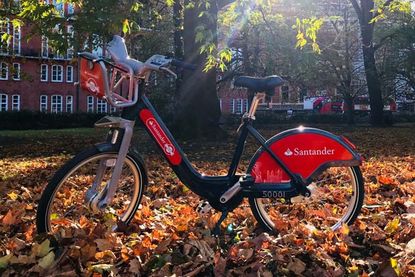 (Image credit: Transport for London)
A new generation of London cycle hire bikes has been unveiled, with a host of updates to help improve safety and ease of use.
Santander Cycles, as the hire bike scheme is now known, officially revealed the new model on Monday. The model is made by British company Pashley Cycles in Stratford-upon-Avon.
The most noticeable changes are the smaller frame size and smaller wheels, which drop in size from 26-inch wheels on the old model to 24-inch on the new one. Smaller wheel sizes have been introduced to 'improve acceleration from a standing start'.
The smaller frame size is designed to fit a wider range of people, and the Mayor of London's office says that handling has been improved as a result.
The new tyres reportedly feature a 4mm puncture protection layer, which should help prevent unwanted flats on the city's streets.
Ride position can now be tailored easily with a chunky new seat post quick-release mechanism. Sitting on top of the seat post is a gel saddle. Brakes have been updated to Shimano models.
https://www.youtube.com/watch?v=esunuqqXxRA
Both the front and rear lights are new models and feature a Blaze Laserlight. The lights have a higher light output and improved visibility from the side, and the rear light gets brighter when the rider slows down.
The Blaze Laserlight projects an image of a cycle onto the road in front, aiding the visibility of the bike and rider to other road users.
>>> Could the London cycle hire scheme be expanded to cover more of the capital?
A number of other improvements have been made over the old design to assist in maintenance and reduced the time that bikes are removed from service for repair. Serco will continue to maintain the bikes.
The Mayor of London's office report that 2016 was a record-breaking year for the cycle hire scheme, with 10.3 million hires – an increase of 4.4 per cent over 2015. So far in 2017, there have been 8.7 million hires. Santander Cycles will extend into Brixton, with space for 200 bikes.
Adrian Williams, CEO of Pashley Cycles said: "I am immensely proud of our team's achievement in successfully developing a completely new bicycle for London. It is a bicycle of exceptional quality, designed with the rider's safety and enjoyment in mind, whilst ensuring that maintenance and operating costs are kept to a minimum.
"Our team have worked in close partnership with Serco throughout the project to ensure that we deliver the world class public hire bike London deserves."
Mayor of London Sadiq Khan added: "It's great news that the first of our brand-new cycle hire bikes have arrived on London's streets. Tens of thousands of Londoners and tourists enjoy using the bikes to get around our city every single day, so by making them more comfortable and manoeuvrable we're hoping they'll be even more popular. That's good for our health, our air quality and for tackling congestion."
Santander Cycles unveiled the new bike with a video featuring Formula One star Jenson Button.
Thank you for reading 5 articles this month* Join now for unlimited access
Enjoy your first month for just £1 / $1 / €1
*Read 5 free articles per month without a subscription
Join now for unlimited access
Try first month for just £1 / $1 / €1