Lotto-Soudal's Bjorg Lambrecht out of Tour Down Under after Whereabouts confusion
Belgian rider Bjorg Lambrecht will not start Tour Down Under as he did not complete his anti-doping Whereabouts information for relevant period - Updated: UCI says that Lotto-Soudal only registered Lambrecht with them on December 11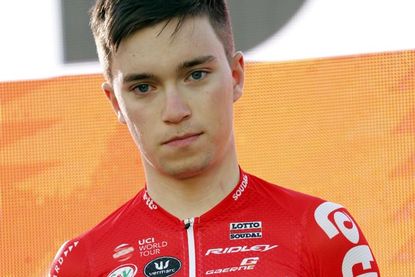 (Image credit: Yuzuru Sunada)
Lotto-Soudal will start the 2018 Tour Down Under with one rider short after Belgian neo-pro Bjorg Lambrecht was withdrawn from the start list due to confusion over the anti-doping Whereabouts system.
The team explained in a statement on Monday that 20-year-old Lambrecht has not met the Anti-Doping Administration and Management System (ADAMS) Whereabouts criteria due to signing up to the scheme too late. The system logs the location of a rider so that they can be contacted for anti-doping tests.
Lambrecht was due to make his WorldTour debut at the Tour Down Under, and anti-doping regulations state that he needed to be signed up to ADAMS Whereabouts scheme for six weeks (42 days) prior to the start of his first WorldTour race.
However, Lotto-Soudal says that Lambrecht only received his log-in details for the ADAMS system on December 15 – just 32 days before the start of the race.
>>> Tour Down Under 2018: Latest news, reports and race info
Lotto-Soudal have therefore withdrawn Lambrecht from starting the race as a precaution, although they say that they have not received any clarification from the Union Cycliste Internationale (UCI) over the issue.
"Without a written confirmation of the UCI that Bjorg can start, neither the rider nor the team can take any risk," the team said in a statement published on their Facebook page.
"Bjorg Lambrecht won't be replaced, which means Lotto-Soudal will start with six riders on Tuesday instead of seven. On 28 January Bjorg can ride the Cadel Evans Great Ocean Road Race, because then the period of six weeks will be passed."
http://www.youtube.com/watch?v=OQVwaVGJgzI
Lambrecht says that he is disappointed not to be joining his team-mates in the TDU, and will spend the time training ahead of the Great Ocean Road Race.
"This is a huge disappointment," said Lambrecht. "We came to Australia a week ago, I felt good in the group, was looking forward to my first pro season and then it's a huge disappointment when you hear you can't start. But of course we can't take any risk. I will stay here to train for a week and then I will head to Melbourne with the team."
The UCI said in a statement issued on Tuesday that Lotto-Soudal had only notified it that Lambrecht was joining their team on December 11, therefore already within the six-week period.
"To ensure a level playing field at the UCI WorldTour level, the Union Cycliste Internationale (UCI) requires that all riders competing in the Series are subject to the Athlete Biological Passport programme run by the Cycling Anti-Doping Foundation (CADF)," said the UCI. "Therefore, Article 2.1.005 of the UCI Regulations provides that a rider shall provide accurate and up-to-date whereabouts information to an Anti-Doping Organisation for a minimum of six weeks prior to his first participation in a UCI WorldTour event.
"By informing the Cycling Anti-Doping Foundation (CADF) only on 11 December 2017 of its intention to register neo-pro Bjorg Lambrecht for the 2018 season, the Lotto Soudal team had already exceeded the 6-week deadline for the 2018 Santos Tour of Down Under which was set on 5 December 2017.
"Article 2.1.005 of the UCI Regulations has been in force since 2009, and consistently applied to and complied with by UCI WorldTeams and UCI Professional Continental ever since."
Lotto-Soudal subsequently said that this was not correct, and that they had "confirmed their line-up for 2018 to CADF on 2 November".
Despite being short by one rider, Lotto-Soudal started the 2018 Tour Down Under successfully with German sprinter André Greipel taking the opening stage victory.
The 2018 Tour Down Under starts on Tuesday, January 16, and finishes on Sunday, January 21.
Thank you for reading 20 articles this month* Join now for unlimited access
Enjoy your first month for just £1 / $1 / €1
*Read 5 free articles per month without a subscription
Join now for unlimited access
Try first month for just £1 / $1 / €1