New Bontrager Transmitr allows wireless control of lights (video)
Bontrager's Transmitr allows multiple lights to be controlled from a wireless handlebar-mounted remote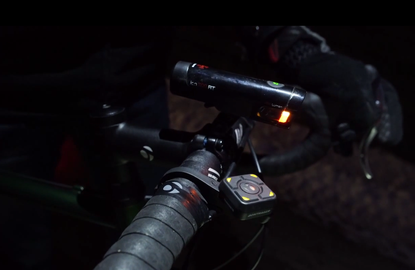 When it gets dark, cycling with lights makes you more visible and can be essential for illuminating the path ahead, however reaching to turn lights on and adjust the beam can be awkward.
>>> For a buyers guide to lights, click here
Bontrager's new handle bar mounted Transmitr allows you to wirelessly control up to seven lights using ANT+ connectivity, meaning that safe on the fly control of your lights is now possible. To see the product in action, check out the video below.
https://www.youtube.com/watch?v=v_Pi8VICw6Y
>>> Helmets with integrated lights
As well as the remote the system also features a 700 lumen headlight and 65 lumen tail light. The lights are USB rechargeable, with the option of additional lights that can be added and configured to work as indicators. The remote also displays the battery status of the lights.
One big advantage is that you can control the beam settings of the lights. For example if you are riding on a well lit road and want to save battery you can control this from the bars. Once you hit a dark section or trail, you can turn the full beam on to light your way without having to stop. This would also give you the option of flashing drivers at junctions, should the need arise.
Regarding cost, The Bontrager Transmitr Remote is priced at $69.99 with UK pricing yet to be announced. The Ion 700 RT headlight is available for £89.99 and the Flare RT tail light for £44.99.
For more information, head over to Bontrager
Thank you for reading 10 articles this month* Join now for unlimited access
Enjoy your first month for just £1 / $1 / €1
*Read 5 free articles per month without a subscription
Join now for unlimited access
Try first month for just £1 / $1 / €1
Oliver Bridgewood - no, Doctor Oliver Bridgewood - is a PhD Chemist who discovered a love of cycling. He enjoys racing time trials, hill climbs, road races and criteriums. During his time at Cycling Weekly, he worked predominantly within the tech team, also utilising his science background to produce insightful fitness articles, before moving to an entirely video-focused role heading up the Cycling Weekly YouTube channel, where his feature-length documentary 'Project 49' was his crowning glory.