New website offers free legal advice for cyclists who have been injured on the roads
Website offers free advice and can produce a letter for you, but is not a substitute for a lawyer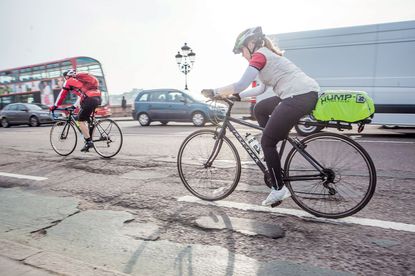 A website has been set up to offer free legal advice for cyclists who have been injured on the roads in anything "from hit and runs to potholes".
'Litem is the brainchild of web developer, Alex Jeffcott, and cyclists simply need to complete an opening "triage" by answering questions about the incident they were involved in to receive advice, an evaluation of the likely payout, and a letter which can be sent to the other party stating the circumstances, liability, injuries and financial losses involved.
It is clearly stated on arrival to the site that the advice given "has been checked by personal injury lawyers with over 25 years combined experience" but "is not a substitute for a lawyer," adding "we accept no liability for the outcome of your case."
Web developer Jeffcott is the brother of Oliver Jeffcott, the London based personal injury solicitor behind The Cycling Solicitor blog, though according to the website Legal Futures he played no part in the set up of the new service.
The site comes at a time when the government is considering revisions to the Civil Liability Bill which could make it more difficult for cyclists to claim compensation by increasing the small claims limit for road traffic accident personal injury claims from £1,000 to £5,000.
The government is making the changes as an attempt to reduce the cash incentive for those claiming fraudulently for whiplash, but both Cycling UK and British Cycling have warned that the move will negatively impact cyclists.
Jeffcott has reportedly called the plans "crazy" and said he hopes Litem could fill the "huge gap".
"Having an accident as a cyclist can have serious consequences for your life and your family. As a cyclist in Berlin, where it's easy, I think about the roads in London and how frightening it must be," he told Legal Futures.
"Everything is worse when you do not know what to do, and this is where I want to help."
British Cycling policy adviser Chris Boardman commented on the potential policy changes in April, saying "this move will have huge unintended consequences for anyone involved in a collision that is not driving."
"It will now become almost impossible for cyclists to get legal representation without sacrificing a significant proportion of the compensation that they would be entitled to and I appeal to the government to rethink this approach."
The Justice Select Committee has advised the government against making the changes, stating "there is no policy justification for including vulnerable road users [including cyclists] within the reforms… and we recommend that they be excluded from any higher small claims limit that is imposed."
Duncan Dollimore, head of campaigns at Cycling UK, the national cycling charity that was heavily quoted in the Justice Select Committee's recommendations, said: "the government now needs to listen to vulnerable road user groups... and think again about plans which have no policy justification, fly in the face of the evidence, and would disproportionately affect the most vulnerable people on our roads."
The service offered by Litem isn't unique - indeed paid up members to British Cycling and Cycling UK both have access to initial help and follow up.
Currently, Cycling UK members have access to a free incident line, powered by Slater and Gordon Lawyers who have secured £44 million on behalf of members since 2002.
British Cycling members also have access to an incident helpline, which offers legal and insurance assistance to riders who have been involved in "an incident whilst riding or wheeling their bike."
Where appropriate, both organisations will offer advice and representation from professional personal injury lawyers.
Thank you for reading 20 articles this month* Join now for unlimited access
Enjoy your first month for just £1 / $1 / €1
*Read 5 free articles per month without a subscription
Join now for unlimited access
Try first month for just £1 / $1 / €1