Nicolas Roche hospitalised for a second time with infected spider bite
Irish Team Sky pro Nicolas Roche bitten again by a venomous spider, and ends up in hospital just weeks after a similar incident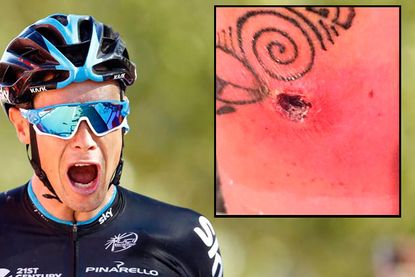 Nicolas Roche's early-season preparations hit another setback this week as he was forced to visit hospital after a second spider bite became infected.
The Irish Team Sky pro joked on Twitter that he would be auditioning for the part of Spiderman after being bitten twice in two unconnected incidents just weeks apart - and ending up in hospital for treatment on both occasions.
>>> Nicolas Roche's training interrupted by hospital visit after infected spider bite
Roche posted up a picture of the nasty-looking bite, which had turned into an open wound, saying: "Really considering going for casting of spider[man] 6 ... Have not been climbing up the walls yet... #noluck #incredible."
Roche was first bitten in Australia in mid-November after his honeymoon, and ended up in hospital in Singapore while attending a corporate event after the bite on his forearm became infected.
The 31-year-old subsequently missed four days of training as a result of the bite. Roche told Cycling Weekly at the time: "It was a bit of a scare. My hand blew-up like a balloon and I didn't know what was happening."
Roche enjoyed a solid debut season with Team Sky in 2015, claiming the team's only stage win in the Vuelta a España after assisting Chris Froome to overall victory in the Tour de France. His 2016 race schedule has yet to be confirmed.
Thank you for reading 20 articles this month* Join now for unlimited access
Enjoy your first month for just £1 / $1 / €1
*Read 5 free articles per month without a subscription
Join now for unlimited access
Try first month for just £1 / $1 / €1