Pro cycling remembers Fabian Cancellara's greatest moments
The peloton and team staff paid tribute to Fabian Cancellara in his final Tour de France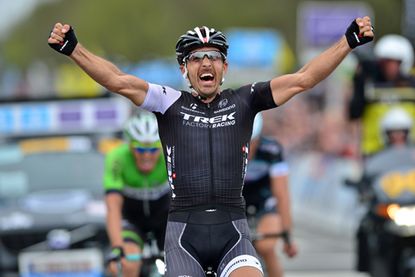 (Image credit: Graham Watson)
Swiss classics and time trial champion Fabian Cancellara, who rides with the Tour de France into his hometown of Bern on stage 16, retires this season and leaves many cycling insiders impressed by his "raw power."
Cancellara's career includes three wins each in the Tour of Flanders and Paris-Roubaix, one in Milan-San Remo, and four time trial world titles.
In the Tour he's worn the yellow jersey for 29 days, including the day he crashed in 2015 on the way to Huy, in Belgium.
"He's an icon of cycling," former French professional Cédric Vasseur told Cycling Weekly. "In addition to being a good sportsman, he's a phenomenon. He has a personality, he's friendly to the journalists and fans, and he can race.
"The most impressive win was his victory in Compiègne, I was racing in my last Tour in 2007. We were going full-gas into the city, I was at 180bpm, almost dropped, and I heard in the radio that Fabian Cancellara was attacking. I thought, 'How is this possible?' That gave everyone a real idea of his capacities."
Kim Andersen worked with Cancellara as a sports director at Saxo Bank, Leopard and now, Trek-Segafredo. He too recalled the 2007 stage to Compiègne, which hosts the start of Paris-Roubaix each year.
"We won the prologue in London, the jersey, but then in Compiègne, we nearly lost it because a group was in front and we didn't think we could catch him. It went from: we are going to lose this jersey to winning the stage and taking time. We hadn't planned it at all."
"That win in Compiègne was a big show," added BMC Racing's Valerio Piva, who started with Cancellara as a sports director in Mapei.
"He was still not the big Cancellara star that we know today. He didn't have to win, he has already had the prologue win in London and the yellow jersey. But with the attack and win, he showed his potential. He basically said, 'I'm the king.'"
Etixx-Quick Step General Manager Patrick Lefevere has spent years trying to beat Cancellara in the classics with Tom Boonen and his other riders, but he helped him start his professional career when in team Mapei.
"When we signed him, I was there with Alvaro Crespi, creating a young team in our team with riders like [Bernie] Eisel, Cancellara, [Filippo] Pozzato, [Cadel] Evans... All those guys," Lefevere said.
"He came with his father in a small car with his bike. They drove over two first category passes to arrive in Lugano and sign the contract. We spoke in Italian because his dad is from the south of Italy – and just like Fabian, he likes talking."
Geraint Thomas often went up against Cancellara as he tried to become a classics rider and win with Team Sky.
"In the E3 Harelbeke three or four years ago, he accelerated from Boonen in the last two kilometres," Thomas said. "He was in the saddle and Boonen was sprinting behind trying to catch him, but just couldn't get on Cancellara's wheel. It's just that raw power.
"He's been strong and always tough to win a classic with him around. It will be interesting without him around, it will allow others to believe now that they can win more and create a different tactical battle."
Watch: Fabian Cancellara's latest bike
"In the Tour of Qatar when I was still racing, with around two or three kilometres to race in a cross-tail wind, he attacked free and impressed me," Team Sky's classics sports director, Servais Knaven explained.
"Everyone chased, but he held off the group to the finish. He's one of the only guys to have done that.
"I was there with Tom Boonen, helping him, trying to close, but we couldn't do it. That was impressive. He was one of the only guys who could do that: high watts of 700 to 800 for a few minutes."
Swiss teammate Gregory Rast trains regularly with Cancellara and raced with him on national teams in world championships. He's never seen anyone like Cancellara before.
"His focus is like none other," Rast said. "The training he did for the classics, what he did, the efforts... It was impressive. One day, hew flew with a jet to Calpe, Spain, because there was bad weather in Switzerland. He flew there on a Wednesday, trained for six hours and came back. This was in the lead up to Flanders.
"Maybe others would've just done rollers and three hours on the road, but he wanted to do a proper road training. He went there with [team manager] Luca Guercilena and trained behind the motorbike."
Thank you for reading 20 articles this month* Join now for unlimited access
Enjoy your first month for just £1 / $1 / €1
*Read 5 free articles per month without a subscription
Join now for unlimited access
Try first month for just £1 / $1 / €1