Riis welcomes Contador and Saxo Bank's continuation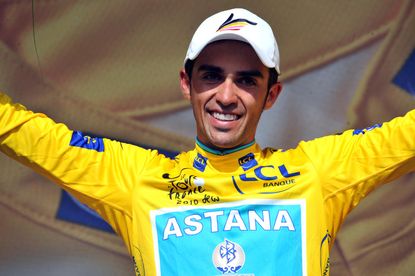 Dane Bjarne Riis announced in Copenhagen today that his team will have Saxo Bank as the title sponsor for one more year and that Spain's Alberto Contador will join.
"I am proud to announce Alberto Contador on my team. He has ambitions, he wins races and will fit well with our team," said Riis.
"It is not certain that he will win next year, but I want to help him and I think he will."
Riis and Contador signed an agreement for two years, 2011 and 2012. Contador will race his ninth season next year under the name, Saxo Bank-SunGard.
He announced July 28, two days after his Tour de France win, that he will leave Astana at the end of this year. He nearly left at the end of last season, but stayed with the Kazakh team to finish the final year of his three-year contract.
He won his third Tour de France this year when he beat Saxo Bank's Andy Schleck by 39 seconds. Though Schleck missed a chance to put Saxo Bank on the top step of the podium, Schleck won two stages and they white jersey of best young rider.
Saxo Bank joined Riis in June of 2008. Riis' team raced the 2008 Tour de France as CSC-Saxo Bank and won with Spaniard Carlos Sastre. Over the last two years, Saxo Bank has been the title sponsor and the team finished second twice with Schleck.
"It's been a very successful sponsorship," said Saxo Bank CEO Lars Seier Christensen. "I told Bjarne that we would not continue, but sometimes things change."
Schleck announced Friday his change. He confirmed that he and his brother Fränk will leave Riis' team at the end of the season. The two are bound for the new team based in their home country of Luxembourg and run by Riis' former press officer, Dane Brian Nygaard.
With Andy Schleck at his side, Riis announced on the Tour de France's first rest day in Morzine, July 12, that he found a new title sponsor to join with co-sponsor SunGard. Though, he was unable to announce the title sponsor's name "because of the business strategy of this company," he said.
American software company SunGard already is with the team this year as a subsidiary sponsor and, as Riis announced in Morzine, will increase its involvement for next year.
Specialized bicycles will continue to provide bikes for Riis' team and for Contador. Last year, signed a two-year personal sponsorship deal with Specialized, which took over as bicycle sponsor for Astana.
"The agreement we have with Specialized," said Riis, "is as an equipment supplier and nothing else."
Related links
Riis to announce arrival of new sponsor and Contador?
Riis risks losing Schleck brothers to new Luxembourg team
Riis secures replacement sponsor but Schleck in doubt
Thank you for reading 20 articles this month* Join now for unlimited access
Enjoy your first month for just £1 / $1 / €1
*Read 5 free articles per month without a subscription
Join now for unlimited access
Try first month for just £1 / $1 / €1