Seven things to do if you can't get out cycling
Ice and cold keeping you from getting out for a ride? Here's a list of things to fill your time whilst you're waiting for the thaw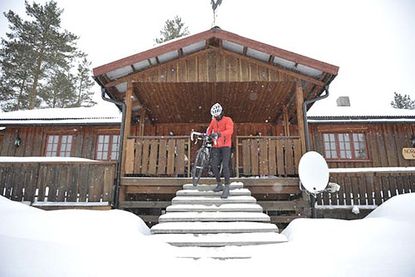 Ice, sub-zero temperatures and a dumping of snow aren't the best conditions to be out cycling, so some of us are stuck indoors, noses pressed against the window waiting for the thaw.
All is not lost. Although it probably feels like your fitness is ebbing away with every extra chocolate digestive that you consume to keep your spirits up (be honest, now) there are plenty of things to keep you fit and getting ready for the cycling year ahead
Indoor cycling sessions
Let's get this one out of the way first. If you can't cycle outside then the obvious thing to do is cycle inside. Although the turbo trainer or rollers are often viewed as an instrument of torture that can simultaneously and miraculously make time stand still, it's hard to beat to keep your fitness levels up.
We've put together a set of turbo sessions to help you put some variety into your indoor training.
Watch: Turbo trainers buyer's guide
Put on some uplifting music, or catch up with some of your missed TV shows on a laptop next to you. At an hour each episode, many TV series box sets are good length and you can keep your brain active whilst your legs are spinning.
If solo turbo sessions aren't your thing, then link up with riding friends, club-mates or down the gym. Organised spinning classes and cycling club group turbo sessions are also good to keep the boredom at bay, as are training aids such as Zwift.
Plan your cycling year
Now is a good time to set up your first targets of the new year, whatever they may be. Booking up your first sportive or race of the year is a big incentive to work out a bit of structure to your cycling. Or if you're aiming for weight loss, put a date on when you're going to lose those first couple of pounds.
We've picked out the best 20 British sportives to ride in 2018. Plus, UKCE have a whole host of events sorted for 2018 - maybe we'll see you there?
It's also worth looking back over your rides from last year to see what you enjoyed, and plan for some good days out. Casting an eye over your rides, and those of others, on Strava or Garmin Connect can give you some good ideas for the coming months.
>>> Cyclo-sportive and cycling events calendar 2018
Grab a bargain
With 2018 products making their way into the shops, now can be a good time to grab a cycling bargain as old stock makes way for new. Your local bike shop and specialist online retailers may hold that stunning deal that you've been waiting for for a new bike, clothing or accessories.
Every week, we round up a load of deals on cycling equipment in our Sunday Trading section making it easy to locate some proper bargains.
Also watch out for some of the online megastores as they wage a price war, they often have discount codes to reduce the price of your basket above a certain threshold.
Sort out your bike(s)
If you did manage to get out riding before the snow struck, chances are that your bike is in a bit of a state. If your chain is the colour of liquorice and squeaking like a bag of rats then it probably needs a bit of attention.
Give your steed a badly-needed service and it will thank you for the attention by being more mechanically efficient, saving you a bit of muscle power when the weather turns for the better.
Now is also a good time to finally get around to fixing the seven or eight punctured inner tubes you have in a drawer in the garage, sorting out the box of worn-out bits you keep 'just in case' and locating all eight of the Allen keys that you can never find when you need them.
We've got a series of 'how to' videos, showing you the correct way to set up your gears, your brakes, your headset and many more in our video section.
Look forward to the year's big races
The 2018 is now getting going, with a couple of big races just around the corner, including Paris-Nice, Tirreno-Adriatico, the Spring Classics and the first Grand Tour of the year, the Giro d'Italia in May.
All the major, WorldTour races are listed in our 2018 calendar. We've also got details of all the stages of the 2018 Giro d'Italia in May, the Tour de France in July and the Vuelta a España in August/September.
You can use this fallow period in your riding to gen up on the 2018 races, picking out the key events and highlight them on your calendar. Try not to overwrite the bit that marks Aunt June's 75th birthday. Although, she'll understand if you forget to send her a card because you're watching Paris-Roubaix. Probably.
Get inspired
If you're bored of looking out of the window at all the snow, give yourself some inspiration looking at photos of riders in the sun - we regularly post up galleries of the pro's in action in the races such as the Tour Down Under.
There are also quite a few of you who have braved the elements to go out for a slippery spin along the local lanes. We asked you to send in your snowy riding pics and were surprised how many of you had gone out. Take a look at the Cycling in the Snow gallery: maybe you've got a photo that is worthy of adding to it?
Escape!
One way to get away from the grip of a British winter is to literally get away from Britain. Booking a bit of winter sun for you and your bike is an easy task, and many summer resorts have plenty of space and quiet roads in the off-season.
This article was updated on 1 March 2018

Thank you for reading 20 articles this month* Join now for unlimited access
Enjoy your first month for just £1 / $1 / €1
*Read 5 free articles per month without a subscription
Join now for unlimited access
Try first month for just £1 / $1 / €1