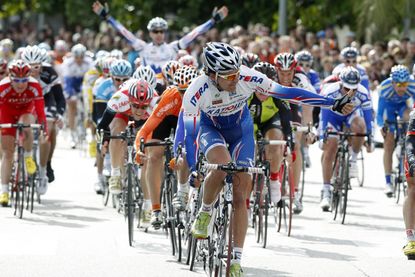 Belgian sprinter Gert Steegmans has parted company with the Russian Katusha team after refusing to sign the squad's anti-doping charter.
Steegmans has been in limbo since June this year, having not raced since the Dauphine Libere due to his refusal to endorse Katusha's charter which stipulated that anyone caught for doping would be fined heavily - up to five times their annual salary.
Steegmans has refused to comment on his departure from the squad, and it is not clear who he will now ride for.
As a result of Steegmans refusal to sign the charter, he missed this year's Tour de France. Although he has a number of wins in his palmares - including a high profile win on the Champs Élysées at the end of the 2008 Tour - Steegmans is probably better known as former lead-out man for sprinters Tom Boonen and Robbie McEwen.
Katusha's anti-doping charter was brought in by the squad after two riders failed tests for banned substances. Christian Pfannberger failed an out-of-competition test in May, and was ejected from the team. Antonio Colom failed a test for EPO in June and was suspended.
Related links
Colom positive for EPO
Katusha suspends Pfannberger after out-of-competition positive
Thank you for reading 20 articles this month* Join now for unlimited access
Enjoy your first month for just £1 / $1 / €1
*Read 5 free articles per month without a subscription
Join now for unlimited access
Try first month for just £1 / $1 / €1