Team Sky 'happy to co-operate with UCI' in investigation over 'cheating' allegations
UCI president David Lappartient has called for an investigation into the claims from the UK parliament Select Committee report that Team Sky 'crossed an ethical line' - Lappartient told the BBC that Chris Froome's salbutamol case is unlikely to be resolved before the Giro d'Italia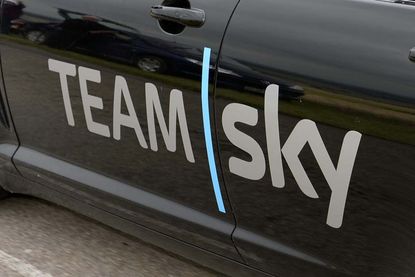 (Image credit: Graham Watson)
Team Sky have responded to comments made by the Union Cycliste Internationale president David Lappartient that an investigation will be launched by the UCI into allegations of "cheating" in the wake of the UK parliament's Digital, Culture, Media and Sport Select Committee report into doping.
The report – published on Monday – stated that Team Sky had "crossed an ethical line" with its use of corticosteroid triamcinolone, which was administered to Bradley Wiggins ahead of the 2011 and 2012 Tour de France and 2013 Giro d'Italia to treat allergies. This was within World Anti-Doping Agency rules as Wiggins had the relevant therapeutic use exemption (TUE) certificate for the medication.
Lappartient spoke to the BBC about the Select Committee's report, and said that he will ask the Cycling Anti-Doping Foundation (CADF) to investigate whether any anti-doping rules were broken.
>>> Combatting Doping in Sport report says Team Sky 'crossed an ethical line' with use of corticosteroid
Lappartient told the BBC: "If you are using substances to increase your performances, I think this is exactly what is cheating."
He also said: "It's sad to see that when Team Sky was launched, I remember they say 'we will be clean, we will win races and be clean, more white than white'. We can see in this report that it seems to be a little bit different."
In a brief statement issued on Wednesday, Team Sky has said that they will co-operate with any investigation launched by the UCI or CADF.
"Team Sky is happy to co-operate with any investigation by the UCI and we would welcome further scrutiny of the Select Committee's report," said the Team Sky statement.
However, the British-registered WorldTour squad said that they were "concerned" at the allegations that were made in the report "without providing evidence".
"While we have acknowledged past failings, we strongly deny the very serious new allegations about the use of medication to enhance performance, as does Bradley Wiggins," said Team Sky.
>>> 'We never crossed the ethical line': Bradley Wiggins responds to doping in sport report
"Furthermore, we are concerned that the Committee presented these unsubstantiated allegations without providing evidence to support them, which is fundamentally unfair to the Team and its riders.
"We welcome any review by the UCI which can help establish the nature of the evidence relied on by the Committee in coming to its conclusions."
Team Sky and Wiggins had both previously issued statements refuting that any substances were used without a legitimate medical need.
Commenting on the current case involving Chris Froome's adverse analytical finding for salbutamol at the 2017 Vuelta a España, Lappartient said that Froome riding in the 2018 Tour de France "would be a disaster for the image of cycling, even if on a legal point of view he has a right to ride".
Lappartient said that it was unlikely that the Froome case would be resolved before the Giro d'Italia in May, which Froome is intending to ride as Team Sky's leader.
"I'm not sure we can have the decision before May's Giro d'Italia," Lappartient told the BBC. "I hope we can have it at least before the Tour de France in July because, can you imagine if he's riding the Giro and with spectators crying against him, or if at the end he's disqualified from the Giro - that's something difficult for our sport."
Thank you for reading 20 articles this month* Join now for unlimited access
Enjoy your first month for just £1 / $1 / €1
*Read 5 free articles per month without a subscription
Join now for unlimited access
Try first month for just £1 / $1 / €1