UCI considering scrapping 6.8kg bike weight limit
Governing body's technical manager descrbes the rule as "a relic of the past"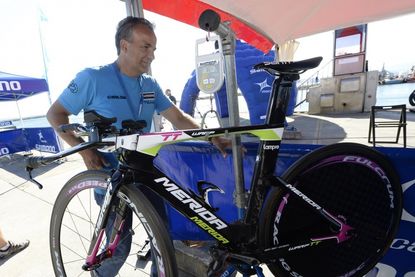 (Image credit: Watson)
With bike technology getting more and more advanced, the UCI is looking at scrapping the 6.8kg limit on minimum bike weight used in races.
First introduced in 2000, the minimum weight rule was originally intended to ensure safety at a time when there was considerable unease about new lightweight carbon bikes, but with advances in technology, and with some teams having to add lead weights to top tubes and drop chains down seat tubes for ballast, the rule has seemed increasingly out of date in reent years.
>>> How does weight affect your climbing speed (video)
In an interview with Australian website Cycling Tips (in which he also admitted that motorised bikes could have been used in WorldTour races), UCI technical manager Mark Barfield said that the world governing body was "a relic of the past" and "in our sights".
However this is not to say bike manufacturers will simply be giving free rein to develop the lightest bikes possible for professional riders, with the 6.8kg rule likely to be replaced with another standard.
Watch: Best lightweight bike of the year 2016
"[The new rule] will be a safety-based standard and not a weight. What we are looking at are the standards that are currently in place and seeing if they are fit for purpose. If they are fit for purpose then that might be a very simple and elegant solution. If they are not, then we need to see what has to be added to ensure what is fit for purpose"
Barfield also offered some supprt for the 6.8kg rule, saying that not only had it done a good job ensuring rider safety, but had also helped to fuel development in other areas since it was first introduced over 15 years ago.
>>> At just 4.4kg, is this the lightest bike in the world?
"For some manufacturers it provides some reassurance; they think that they can build aero bikes, that they can add electronic gearing or they can do whatever they like around the bike and it will still be 6.8kg."
So will we see the pros riding sub-6kg machines from the start of 2016? Well, unfortunately not, with the rule change looking to be a long-term rather than a short-term procedure, and Barfield stressing the need for cooperation between the UCI and bicycle manufacturers for the rule change to be successfully implemented.
When the change does come about, it will be the latest in a series of changes to the UCI's technical regulations in recent weeks, that has seen the wider introduction of disc brakes into the peloton, and the relaxation of rules governing downward tilted saddles that have been criticised by time triallists for a number of years.
Thank you for reading 20 articles this month* Join now for unlimited access
Enjoy your first month for just £1 / $1 / €1
*Read 5 free articles per month without a subscription
Join now for unlimited access
Try first month for just £1 / $1 / €1