UCI SAYS IT HAS NEW INFORMATION ON VALVERDE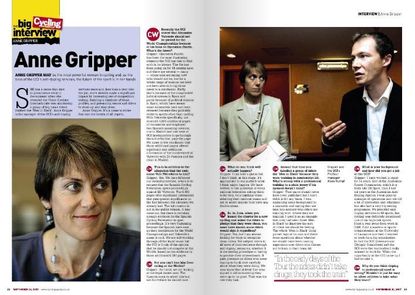 As the Spanish Cycling Federation prepares to take legal action to ensure Alejandro Valverde can ride the World Championships next week, the UCI is sticking to its guns.
Spanish officials said they would take the UCI to court in Switzerland as well as appeal to the Court of Arbitration for Sport to force the governing body to allow Valverde on the start line for the elite men?s road race on September 30.
But Anne Gripper, manager of the UCI?s anti-doping services, has told Cycling Weekly that there is significant additional information linking Valverde to Operacion Puerto in the 6,000 pages of documents scrutinised by lawyers this summer.
In an interview to be published in Thursday?s magazine, Gripper said: ?With Valverde specifically, we received 6,000 additional pages of documents and employed two Spanish-speaking lawyers, one in Madrid, one here at UCI headquarters, to go through them line by line, page by page. The week before last [early September] we came to the conclusion that those additional pages offered significant and additional information of the involvement of Valverde with Dr Fuentes and the clinic in Madrid.?
She added that the additional details ? which are not in the public domain ? added weight to the link between the code name Valv Piti and Valverde as well as offering new information but said the UCI could not make the information public at this stage.
The UCI has requested the Spanish Cycling Federation opens proceedings against Valverde and believes there are grounds to ask for a suspension but so far the Spanish have refused and are continuing to back the Caisse d?Epargne man.
Gripper added: ?There is certainly enough evidence for the Spanish Cycling Federation to open proceedings. It?s very frustrating because the Spanish have sent us their inscriptions for the World Championships and Valverde?s name is on it. We are still working through all the legal issues but the UCI is firmly of the opinion that he should not compete at the World Championships, based on the evidence in those additional 6,000 pages.?
Read the full Big Interview with Anne Gripper in Thursday?s Cycling Weekly. Gripper also talks about the Men In Black and why the UCI decided to test Andrei Kashechkin while he was on holiday in Turkey after Astana were forced out of the Tour de France.
RELATED LINKS
Valverde banned from World Championships
Valverde expected to hand over DNA sample
Valverde says he'll be at the World Championships
Zabel and Valverde get cold shoulder from World Championships
Operacion Puerto: case closed
Thank you for reading 10 articles this month* Join now for unlimited access
Enjoy your first month for just £1 / $1 / €1
*Read 5 free articles per month without a subscription
Join now for unlimited access
Try first month for just £1 / $1 / €1
Sports journalist Lionel Birnie has written professionally for Sunday Times, Procycling and of course Cycling Weekly. He is also an author, publisher, and co-founder of The Cycling Podcast. His first experience covering the Tour de France came in 1999, and he has presented The Cycling Podcast with Richard Moore and Daniel Friebe since 2013. He founded Peloton Publishing in 2010 and has ghostwritten and published the autobiography of Sean Kelly, as well as a number of other sports icons.