Voigt signs with Saxo Bank for another year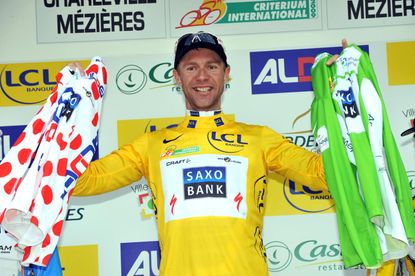 German hardman Jens Voigt has re-signed with the Saxo Bank team for another year, proving that the horrific crash that he suffered during this year's Tour de France has done little to dampen his enthusiasm for cycling.
"I am honoured to be offered a contract for another year and I definitely want to proof that I'm back well and alive to do what I still think I can do," 37-year-old Voigt said after the team announced his new contract.
"Team Saxo Bank is the Barcelona or Real Madrid of the world of cycling and I don't want to degrade myself to a lower standard."
Team owner Bjarne Riis added: "It's a pleasure to sign the contract for another year with Jens. He has a magnificent important role to play on our team with his unstoppable will power and endurance.
"He is in many ways a role model for both the young and experienced riders. I believe he will return to the peloton with the strength he had before his crash and we are delighted that he wants to be a part of Team Saxo Bank for another year."
Voigt crashed on a descent during stage 16 of this year's Tour after hitting a lump in the road and losing control of his bike. He landed on his face and suffered a fractured cheekbone, concussion and severe cuts and bruising.
Thousands of well-wishers sent Voigt messages via email and internet forums, proving his enduring popularity among race fans. He subsequently issued a video message of thanks via Saxo Bank's website.
Voigt won the 2009 edition of the Criterium International in March, the fifth time that he has won the race. His impressive career includes numerous Tour de France, Giro d'Italia, Paris-Nice, Tour of Germany and Tour of Poland stage wins since he turned professional in 1997.
Related links
Voigt on road to recovery after Tour crash
Voigt crashes out of Tour de France
Voigt wins 2009 Criterium International
Thank you for reading 5 articles this month* Join now for unlimited access
Enjoy your first month for just £1 / $1 / €1
*Read 5 free articles per month without a subscription
Join now for unlimited access
Try first month for just £1 / $1 / €1