Zappi creates development team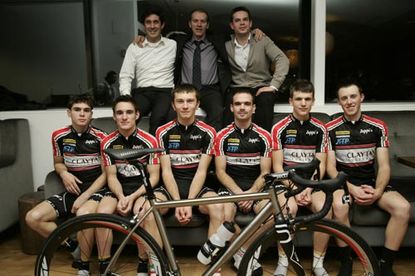 Former Italian professional cyclist Flavio Zappi has created a development team for under-23 riders based in Oxford and backed by UK bike company Sabbath Bicycles.
After a hiatus of some 20 years, Zappi's name reappared in cycling results in 2007 when he started riding - and winning - some amateur races in Britain.
During his professional career Zappi, now 49, rode in three editions of the Giro d'Italia in the early Eighties and placed 12th in the 1984 Milan-San Remo won by Francesco Moser.
Zappi quit the cyclist's life to concentrate on a catering business, which brought him to Oxford where he runs Zappi's Café.
On his return to cycling, Zappi quickly recognised that Britain doesn't have the development opportunities for younger riders, and decided to create his own team to give under-23 riders the necessary experience to move up to a bigger league. Team Zappi was born.
"It's very difficult for young riders to gain experience and develop in the UK, as there's not the culture of road racing as a youth sport here, unlike in France and Italy," said Zappi.
Five under-23 riders have been signed, and they will ride alongside Zappi in his role as rider/manager and assistant manager Tom Kirk.
Team Zappi will contest rounds of the British Cycling Premier Calendar series, as well as gaining valuable experience on the continent in Belgium and Italy.
The squad will ride Sabbath Bicycles Monday's Child models equipped with SRAM Force components.
Team Zappi
Dexter Gardias (U23)
Sam Parker (U23)
Tom Yeatman (U23)
Jack Kirk (U23)
Will Fox (U23)
Flavio Zappi (Senior, Rider/Manager)
Tom Kirk (Senior, Rider/Assistant Manager)
Team Zappi 2010
Dexter Gardias with Team Zappi Sunday bike
Photos by Adam Tranter
Related links
The former Italian pro who won at Hog Hill
Thank you for reading 20 articles this month* Join now for unlimited access
Enjoy your first month for just £1 / $1 / €1
*Read 5 free articles per month without a subscription
Join now for unlimited access
Try first month for just £1 / $1 / €1