Merckx questions Contador doping case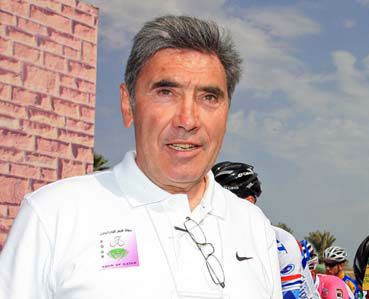 Cycling legend Eddy Merckx has questioned the details around Alberto Contador's positive Clenbuterol doping control at the Tour de France.
"I am not a doctor, I don't understand. You would need to be a specialist to give your opinion on this case," Merckx told Italy's La Gazzetta dello Sport newspaper. "However, the control was in July, the test showed positive in August, the news comes out at the end of September, more than two months after the control. It seems very strange to me."
"I hope I am able to trust him. It would be very difficult for cycling if Contador deemed unworthy of trust."
Spain's Alberto Contador announced on 30 September that he tested positive for Clenbuterol on the way to winning his third Tour de France title in July. The drug helps breathing and aids in body toning, and one that the World Anti-Doping Agency (WADA) has banned at any limit.
Contador's urine sample from July 21 was found with 50 picograms, or 0.000 000 000 05 grams. The result may bring about a one- to two-year ban, and the loss of this year's Tour de France for Contador.
Since he won his first Tour de France in 2007, Contador has dominated three-week Grand Tours. He has won three editions of the Tour de France and both the Giro d'Italia and Vuelta a España once.
Eddy Merckx, 65, is considered the best cyclist in history thanks to his Grand Tour wins - 5 Tours, 5 Giros, 1 Vuelta - and his dominance in one-day classics. He too had his problems with doping. He tested positive for a stimulant at the 1969 Giro d'Italia and was ejected from the race.
Contador's case and other recent doping cases, though, have led to Italy's head sports prosecutor, Ettore Torri to criticise cycling.
"He said that all cyclists are doped, no?" said Merckx.
"It's simply not that way. Cyclists have made a lot of mistakes and there will always be someone who makes a mistake, but the fact is cycling has started to head down the right path."
"What Torri said was a generalisation. He is taking aim at an easy target. Why doesn't the prosecutor read the biography of [tennis star] Andre Agassi? That's just one example."
Torri has helped ban some of Italy's top cyclist for doping and his case led to the ban of Spaniard Alejandro Valverde. His Spanish counterpart may begin reviewing Contador's case as early at this weekend.
Related links
Contador considers quitting cycling due to doping scandal
Thank you for reading 20 articles this month* Join now for unlimited access
Enjoy your first month for just £1 / $1 / €1
*Read 5 free articles per month without a subscription
Join now for unlimited access
Try first month for just £1 / $1 / €1