Para-cycling events to feature in London Track Cycling World Cup
Paralympic champions have shared their support for the new format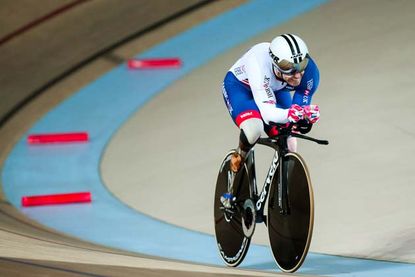 (Image credit: Alex Whitehead/SWpix.com)
London's round of the Track Cycling World Cup later this year will include para-cycling events, in a world first
The series will return to London's Lee Valley Velopark in December and the programme will include para-cycling races as well as the traditional events.
On Friday December 14, para-athletes will compete in the men's and women's tandem sprint, C1-C5 team sprint, women's C1-5 500m TT and men's C1-5 1km TT.
Events will continue until Sunday December 16, in what will be the fourth round of the 2018/2019 World Cup series - other events taking place in Saint-Quentin-en-Yvelines (France), Milton (Canada), Berlin (Germany), Cambridge (New Zealand) and Hong Kong.
The announcement follows the inclusion of para-cycling events at the 2018 Commonwealth Games on Australia's Gold Coast.
In June this year, the UCI also announced its plans to bring assorted events together in a combined World Championships, every four years.
The inaugural event will take place in 2023, with road, mountain bike, track, BMX and para-cycling featured alongside a range of other disciplines.
Great Britain's seven-time Paralympic gold medallist, Jody Cundy, said: "[This is] a great step forward for the sport and I'm delighted that Great Britain is leading the way.
"The Paralympic Games in 2012 – in cycling and every other sport on the schedule – was a seminal moment for global para-sport, and it'll be brilliant to go back to the Velodrome at Lee Valley VeloPark this December and see further progress being made."
Great Britain won eight gold medals at the London 2012 Paralympics, and in Rio's 2016 events they collected eight golds, two silver pedals and two bronzes to top the medal tables.
Great Britain Cycling Team's Head of para-cycling, Jon Pett, said: "We have a number of world leading para-cyclists, and we are delighted that they'll be able to perform on this stage.
"We are passionate about disability sport, but this doesn't just mean winning medals at elite level. Our para-cyclists are role models to so many, and for as wide an audience as possible to view their performances is crucial to inspiring people around the country and the world."
Dame Sarah Storey - who took gold in the para-cycling road race and time trial World Championships this month - has long been campaigning for the UCI to combine the events.
Storey, who now has 31 world titles to her name, took to Twitter to share her support, saying: "[I'm] delighted to see this happen. The inclusion I've been telling the UCI is possible for a number of years now. Delighted that it's Great Britain leading the way again on furthering opportunity for Para-sport Athletes."
Thank you for reading 20 articles this month* Join now for unlimited access
Enjoy your first month for just £1 / $1 / €1
*Read 5 free articles per month without a subscription
Join now for unlimited access
Try first month for just £1 / $1 / €1