Boardman Bikes launches junior range
Road, mountain bike and hybrid models in Boardman's new junior range, priced £299-£349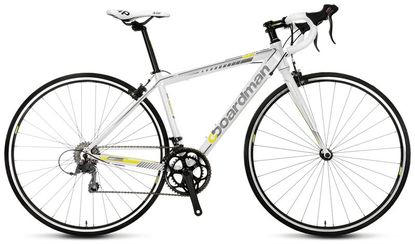 (Image credit: Boardman Road Sport Junior)
Boardman Bikes has launched a range of three 'junior' bikes, comprising road, mountain bike and hybrid models.
All three models come in one size, designed to fit children aged between nine and 16 years old. Boardman Bikes says that the range 'does not compromise on specification', as is so often the case with bikes aimed at the youth market.
"I'm delighted to add our new Junior models to the performance stable," said Chris Boardman. "I hope they will prove the starting place for adventures and even the beginning of the journey for World Champions of tomorrow."
The Boardman Road Junior Sport (pictured above) looks stunning, and retails for £349.99. It features an aluminium alloy 46cm frame, full-size 700c wheels shod with Kenda 23c tyres and a Shimano Claris/Tourney drivetrain with double chainset and seven-speed cassette.
The Boardman Hardtail Sport Junior mountain bike retails for £299.99 and comes with 26-inch wheels, 14-inch aluminium frame, SunTour suspenion fork, Tektro V-brakes and Shimano Tourney 21-speed drivetrain.
Though we love the look of the road and mountain bike models, for all-round riding the Boardman Hybrid Sport Junior looks like it could be a good choice for smaller legs, lacking the weight of heavy mountain bike tyres and suspension fork, or the tarmac-only restriction of the road bike. The Hybrid comes with a 35cm aluminium alloy frame, 26-inch wheels, Shimano Tourney drivetrain with triple chainset and seven-speed cassette, and is priced at £299.99.
The Boardman Junior range will be available from Halfords.
Thank you for reading 5 articles this month* Join now for unlimited access
Enjoy your first month for just £1 / $1 / €1
*Read 5 free articles per month without a subscription
Join now for unlimited access
Try first month for just £1 / $1 / €1