Buyer's guide to summer cycling jerseys
Hot days call for special kit. Here's our guide to what to look for when looking for a summer cycling jersey to keep you cool this summer.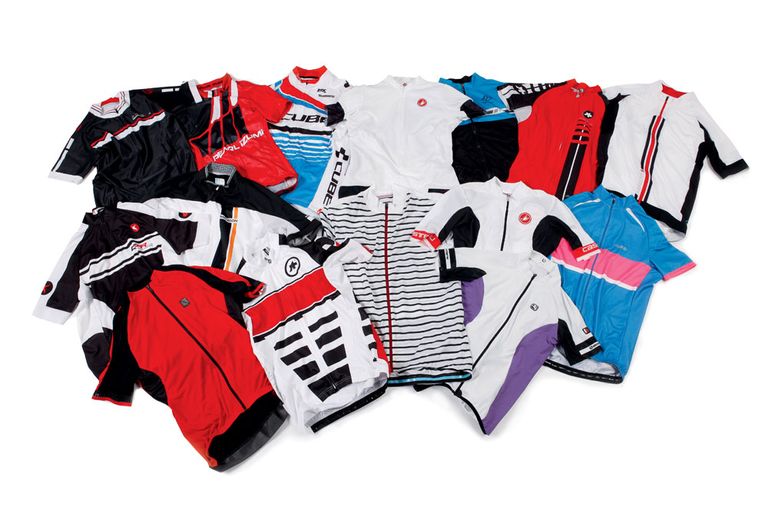 The summer cycling jersey is a relatively new introduction into the cyclist's wardrobe. Back in the day a jersey was a jersey. They were heavy, made of wool, and the most you got in the way of options was whether you wanted long or short sleeves. However in the 21st century there's an awful lot more to get your head round with what might seem like a simple piece of kit...
Investing in a jersey specifically for summer riding might seem frivolous, but could really help you make the most of the hot weather. It will prevent you from overheating on hot days, provide plenty of storage space for provisions on longer rides, and most importantly keep you comfortable and looking good whether you're putting your mates to the sword in the hills or just relaxing with a cake and a coffee (or beer) and working on your tan.
>>> Best women's cycling jerseys: short sleeved cycling tops for summer
Fabric
If you've ever gone for a bike ride in a t-shirt on a hot day you'll already know what you want from the fabric of a good summer cycling jersey. While cotton simply absorbs sweat, the fabric of a cycling jersey is designed to take sweat off the skin and move it to the outside of the material where it can evapourate into the atmosphere, preventing you from becoming wet through and cold.
So what materials should you be looking for? Well, 95% of modern cycling jerseys will me made of synthetic fabrics such as polyester, which do a good transporting moisture away from your skin. The other 5% will mostly be woolen jerseys, with merino wool in particular doing a similar job of wicking sweat away from your skin, although you'll likely be paying a premium for these jerseys.
>>> Buyer's guide: cycling gilets
For your run-of-the-mill jersey this is as far as the fabric technology goes, but for summer cycling jerseys there's a bit more to it. If you're planning on riding in seriously warm weather (think 30ºC+, not your average British summer afternoon) then it might be worth thinking about a so-called climbers' jersey. These are highly breathable jerseys which are often made of a semi see-through mesh material to let cool air in when climbing in the scorching Alpine heat in July.
However if you're looking to make the most of your summer form in slightly cooler conditions you should perhaps look for an aero jersey. These are designed to fit closer to your body (more on that below) but will also have a slightly different fabric, with a dense front panel and shoulders designed to provide as smooth a surface as possible for air to flow over. However this will often be complemented with a more breathable rear panel to allow hot air to escape.
Our pick of the best summer cycling jerseys
We put dhb's aero offering to the test
£55
£99.99
£90
£49.99
Cut and fit
Another thing you'll know if you've ever been for a ride in a t-shirt is that the cut of normal clothing is not suited to a position hunched over the handlebars. With this in mind, cycling jerseys are cut with a slightly shorter front and longer back, which might look a bit odd when stood upright, but will both prevent excess material dangling from your chest and stop the rear of the jersey riding up and exposing your lower back.
While in winter the cut doesn't matter quite so much as you'll likely be wearing a jacket over the top, things aren't quite as simple when it comes to summer cycling jerseys, where broadly speaking you have two different cuts to choose from depending on what you're looking to get out of your riding.
>>> Buyer's guide: cycling bib shorts
First up is the relaxed, or "club", fit. Jerseys with this design are made to prioritise comfort and often looks over performance. This means that they come with a slightly looser fit which doesn't sit as close to the skin and might flap a little in the wind, but should be comfortable, look as good in the cafe as it does on the bike, and not make it too obvious if you've decided against living the monastic lifestyle of the super-lean racer.
The other option is to go for a slim fit "race" jersey. These jerseys are designed to let you make the most of your summer form, with a tighter fit cutting down on excess material to smooth airflow over your body to let you ride faster without any additional effort.
>>> Buyer's guide: women's bib shorts
Of course, all of this means nothing if you buy a summer cycling jersey that's the wrong size for you, and with one company's small being another's large you'd be well advised to try before you buy to make sure you get a jersey that you're going to get the most out of.
Pockets
If you're going to get the most out of your riding this summer and get in some big miles in the sun, good nutrition is absolutely critical. With this in mind a good summer cycling jersey should have plenty of storage space for energy bars and gels, most likely in the form of a trio of rear pockets.
>>> Buyer's guides: road bike groupsets
Many jerseys also come with a fourth zipped pocket designed for storing items such as phones, cards, and keys, which should ideally be positioned in the centre of the jersey to prevent these heavy items pulling down to one side. However this is by no means a crucial feature, as stuffing your valuables deep into open pockets should be secure enough.
Zip
A crucial part of any good summer cycling jersey is the zip which will let you effectively change the characteristics of the jersey to cope with a wide range of conditions. Unfortunately zips cost money, so while more more expensive jerseys should all have full length zips to allow you to fully open the front of the jersey when the temperature really sores, those at the lower end of the scale might come with a three quarter, half, or quarter length zip which won't offer the same sort of adaptibility for a range of conditions.
If you can it's also worth looking for a jersey with what's called a zip garage. Despite the slightly ridiculous name, a zip garage can make a huge difference to your comfort when wearing your new jerseys as it will prevent the top of the zip from rubbing against your neck when fully done up.
>>> Best £2,000 road bikes (video)
A final zip bonus feature with jerseys at the upper end of the market is in the inclusion of lockable zips. These are designed so that if you flick the tab to point upwards you can simply pull the jersey open, a nice touch if you're looking to unzip quickly when the pace is high on a climb.
Style
The great thing about cycling's recent boom in the UK is that there are now such a huge range of jerseys on the market that you should always be able to find one that suits your taste in fashion.
There are generally two ways to go with the style of cycling jerseys. First up you have the more understated jerseys which generally come in block colours and are designed to match your bike and the rest of your kit without too much effort. However if you're looking for something with a bit more personality there are a huge range of more lively designs including some pretty whacky and outrageous ones if you shop around.
Price
As with anything, with summer cycling jerseys you generally get what you pay for. If you go for fashionable and/or high performance brands then don't be surprised to find yourself paying £100 for a jersey, and for this price you can generally guarantee a great performing jersey.
However, unlike with bib shorts, it is not necessary to splash the cash in order to ensure comfort. For £30-£40 you can pick up some really good jerseys that will definitely do the job, and particularly if you buy in the autumn in preparation for next summer, there can be some seriously good deals to be had if you shop around.
>>> Buyer's guide: road bike tyres
And if you're really on a budget you there are plenty of jerseys on the market for under £15. Yes these might come with a less precise fit than more expensive jerseys, will generally only have a quarter length, and won't feature the same technical fabrics, but they'll still do the job for sunny Saturday afternoon spins to the pub.
How we score
10 – Superb, best in its class and we couldn't fault it
9 – Excellent, a slight change and it would be perfect
8 – Brilliant, we'd happily buy it
7 – Solid, but there's better out there
6 – Pretty good, but not quite hitting the mark
5 – Okay, nothing wrong with it, but nothing special
4 – A few niggles let this down
3 – Disappointing
2 – Poor, approach with caution
1 – Terrible, do not buy this product