Cube Aerium TT C:68 bike launched
Features include a split head tube design for optimum aerodynamics across a range of wind yaw angles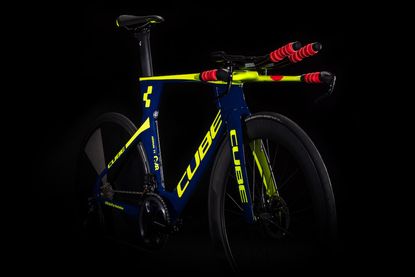 (Image credit: Lars Scharl)
Cube says that the innovative aerodynamics of its new Aerium TT C:68 time trial bike, launched today, deliver maximum aero performance along with outstanding handling.
With the abandonment by the UCI of the 3:1 tube profile rule, Cube says that it has been able to make the new bike's tube profiles even more aero efficient. Amongst its innovations, its twin head tube design is a key element of the new bikes aerodynamics. There's a second member behind the main headtube, with a small space in between.
Cube says that at low wind direction yaw angles, it acts as a long aero profile to reduce drag. At higher yaw angles, it claims that the design reduces sensitivity to cross gusts and improves the frame's sail effect, with the design's efficiency proved in simulation and in the wind tunnel.
>>> Cube road bikes range for 2018: which model is right for you?
Cube has equipped the Aerium TT C:68 with disc brakes. It says that other constraints in the UCI rule set for professional races meant that it couldn't implement rim brakes effectively. But this did mean that the area around the head tube and the fork could be redesigned to up its aero efficiency. Cube integrates the disc brake calliper into the fork blade.
The new Aerium is UCI approved and will be ridden by the Belgian Pro Continental team Wanty-Groupe Gobert, which has secured a wildcard place in this year's Tour de France. The team's riders asked for maximum frame stiffness, with Cube saying that the Aerium TT C:68 is made with high end carbon fibre to achieve this.
>>> Tour de France 2018 start list
Cube says that it's used the aerobar design from its existing, non-UCI compliant Aerium C:68 in the new bike. These allow a wide range of adjustment to fit a variety of rider positions.
Thank you for reading 5 articles this month* Join now for unlimited access
Enjoy your first month for just £1 / $1 / €1
*Read 5 free articles per month without a subscription
Join now for unlimited access
Try first month for just £1 / $1 / €1