Don't like riding in the rain? Maybe you need a 'bicycle umbrella'
Leafxpro 2 bicycle umbrella promises to keep you dry on your daily commute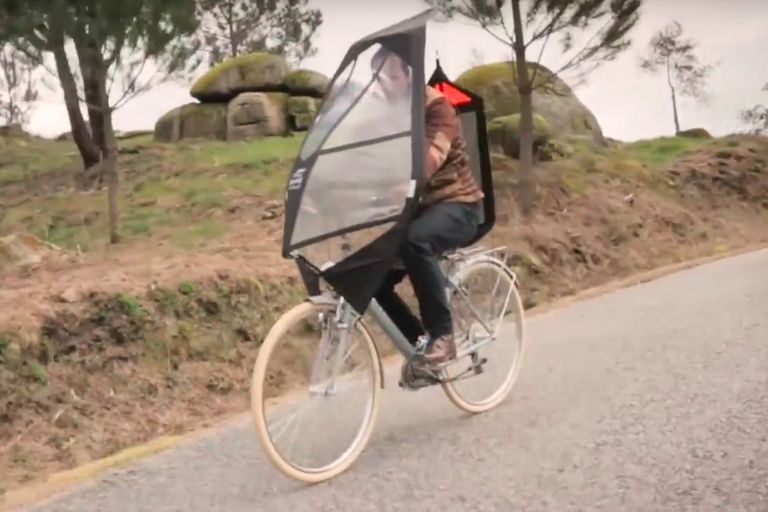 Let's face it, no one likes getting wet while riding in the rain, and yet it's very hard to stay completely dry even with the most expensive waterproof clothing. The solution? A bicycle umbrella.
Yes, you read that correctly, a bicycle umbrella. More specifically, the Leadxpro 2 bicycle umbrella, which is currently looking for $8,500 of crowdfunding on Indiegogo.
>>> Buyer's guide: the best folding bikes
>>> Buyer's guide to waterproof cycling jackets (video)
As you can see from the video above, it's not an umbrella in the traditional sense, but is actually more like a windscreen that extends back over your head, with a rear panel behind the saddle to keep you back dry from wheel spray. When it's not raining the whole thing can be packed down into a bad, and there are also accessories available to keep your sides dry in stormy conditions, and a "baby accessory" for all the responsible parents out there.
https://www.youtube.com/watch?v=atxulyQwBbE
Of course, as with most innovative products, there do seem to be a few problems with the bicycle umbrella. First off, it will only fit bikes with handlebars of between 48 and 65 cm, which rules out all road bikes, and there is very little protection directly above your head, so as soon as you come to a halt (such as when stopped at traffic lights), you're going to get wet. You might also get a few odd looks from passers-by, but hopefully you'll be able to shrug those off.
>>> How to dress for wet weather cycling (video)
The Leafxpro 2 bicycle umbrella is currently available to pre-order on Indiegogo for $49 (approximately £33), which is half the estimated retail price, with the company hoping to ship the brollies out to backers by October. However, the company doesn't have the best record with crowdfunding, having only raised £4,906 of its £20,000 goal on Kickstarter for the first version of its bicycle umbrella last year.