Six areas of cycling tech crying out for standardisation
Wouldn't it be nice if all brands used the same industry standards?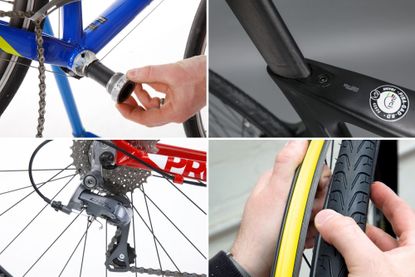 Choice. Sometimes choice is a good thing, sometimes it's a very, very bad thing. When it comes to bikes it seems almost every manufacturer is keen to make its bike stand out from the crowd and in order to do that the dreaded 'P' word comes into play - Proprietary.
Here at Cycling Weekly, proprietary parts, endless choice and a lack of modern standardisation can be some of our pet hates and can make looking after your bike and yourself a complete nightmare. In no particular order here are some of the parts we feel need a little bit more universal standardisation.
Derailleur hangers
A quick look on mech hanger specialist Wheels Manufacturing's website (opens in new tab) hints at the absolute minefield that is the replaceable derailleur hanger (opens in new tab) and begs the question - how can this boring lump of metal that basically does the same job on every bike have so many variants?
Wheel's Manufacturing list over 400 hangers, and that's just the tip of the iceberg; it's not unheard of for a single manufacturer to utilise a different hanger for each of its models. For an item that is designed to be sacrificial and break before damaging your expensive frame or mech this bewildering array of choice can make it an absolute nightmare to get the right replacement.
The relationship between tyre and rim
ISO, the International Organization for Standardisation has developed a universal tyre (opens in new tab) and rim sizing system that supposedly enables all tyre and rim manufacturers to develop products designed to work perfectly together simply by matching the measurements of the rim to the measurements of the tyre. In this respect all 700c tyres and rims 'should' work perfectly together given they are all designed around the 622mm rim bed/bead seat diameter standard.
But as anyone that has lost finger nails, skinned knuckles or generally lost their temper trying to get a tyre to fit can attest, it often isn't that simple. Some combinations slip on with nary a whisper of effort whilst others are physically impossible. Can we please have it where everything is nice and in the middle? We do know that a lot comes down to rim tape, so how about getting universal tape dimensions, especially thickness, to keep things even?
Headsets
Thankfully most bike brands have adhered to a standard of sort when it comes to headset diameter, well 1 1/8" top race diameter seems to be standard at least. However the style of headset (opens in new tab) and actual bearing shape and style are certainly not universal. Integrated, semi-integrated, zero-stack, conventional, integral and tapered are some of your choices of headset cup. And then the bearings themselves have a number of different diameters and chamfer angles. Luckily brands such as Cane Creek (opens in new tab) and FSA (opens in new tab) offer some help in finding the right cups or bearings to fit your particular bike.
Bottom brackets
At the last count there were 12,682 different types of bottom bracket (opens in new tab) available within the cycling industry. Okay, that might be a 'slight' exaggeration but choosing the correct bottom bracket for your bike can be a nightmare.
As a frame builder the first thing you will have to consider is how you want the bottom bracket to interface with your frame - at this point you can choose between threading the bottom bracket shell (in a metal frame), bonding in a threaded metal insert (for a carbon frame) or leaving it as a smooth tube. Threading the tube/fitting an insert does at least create some standardisation in terms of the bottom bracket (to a point) but then the frame builder can choose between an English (BSA) style measuring 33mm in diameter and 68mm in width or Italian style (34mm diameter and 73mm width) or the more modern T47 (46mm diameter) to add a little spice into the mix.
And then we come onto the bottom brackets that fit into a smooth shell. Not threading the shell is obviously a more cost effective way of constructing a frame but it does allow for an even wider range of choice. BB30, PF30, BBright, BB86, BB90, Specialized OSBB, Colnago Threadfit, BB386 Evo, Praxis M30 - these are just some of the shared or proprietary bottom bracket systems that rely on bearings being pushed into the shell.
Oh and don't get us started on bottom bracket axles....
Seat post diameters
Luckily seatpost diameters have seen a reduction in the number of different diameters being used by manufacturers over recent years. Whereas seatposts could be any number of sizes incrementally varying by just 2mm, the industry has settled upon 27.2, 30.9 and 31.6mm as the three main options.
Sadly the fear of potentially all agreeing on a simple range of standards has proved to be too much for the brands and now many are producing frames that require proprietary shaped posts limiting your aftermarket replacement options.
Helmet testing
A cycling helmet (opens in new tab) is a piece of personal safety equipment. There is a long-standing industry safety standard, EN1078, by which all UK sold helmets have to adhere to, which states that a helmet must be designed to withstand an impact similar to an average rider travelling at 12mph falling onto a stationary kerb-shaped object from a height of one metre.
You would think this was good enough but recent studies have suggested that the way a cyclist hits their head during a crash is very rarely uniform to EN1078 testing procedure and thus more rigorous and stringent testing is required. Both the Road Safety Trust (opens in new tab) and Virginia Tech (opens in new tab) have released data of the 'safest' helmets after carrying out testing using more realistic protocols.
And, of course, the industry standard varies by country.
Thank you for reading 10 articles this month* Join now for unlimited access
Enjoy your first month for just £1 / $1 / €1
*Read 5 free articles per month without a subscription
Join now for unlimited access
Try first month for just £1 / $1 / €1
James Bracey's career has seen him move from geography teacher, to MBR writer, to Cycling Weekly's senior tech writer and video presenter. He possesses an in-depth knowledge of bicycle mechanics, as well as bike fit and coaching qualifications. Bracey enjoys all manner of cycling, from road to gravel and mountain biking.