We take a closer look at Team Sky's new paint job for the 2018 season
Team Sky and Pinarello reveal the newly painted Pinarello Dogma F10 for the 2018 season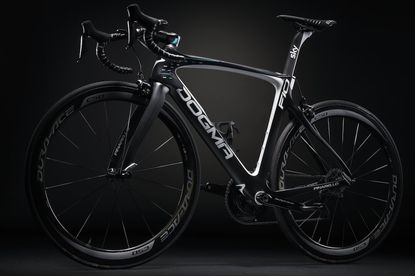 We first reported that the Team Sky riders, including Ian Stannard and Wout Poels, had been riding on newly painted Pinarellos, including the Pinarello Dogma K10S Disc and Pinarello Dogma F10, after seeing tweets from the Team Sky twitter account.
We can now confirm that was indeed the case after Pinarello and Team Sky officially revealed the new-look bikes to the media.
The new paint job isn't a massive change from 2017, with the frame still being mostly black in colour.
But the inside the front triangle, which is now bright white except for the "F10" lettering, is a big shakeup from the previous year's model. The inner triangle now perfectly matches with the seat post as well as the team's new Castelli kit for 2018.
The new white writing on the frame also really standouts out now against the pure black of the painted carbon, even if it is the same as last years model.
A few spots of blue, including on the stem, front end, top tube and the "F10" on the inner triangle help make the bike standout.
The lines that we first saw on last year's kit are still present, just in a smaller number and only on the front end, giving a much sleeker look as you progress towards the rear of the bike.
From the photos we can see that Team Sky are going to be running a full Shimano setup, including the brand's old Dura-Ace C50 wheels. Although we'll have to wait to the first races of the season to find out the exact setup that the rider's choose.
Thank you for reading 10 articles this month* Join now for unlimited access
Enjoy your first month for just £1 / $1 / €1
*Read 5 free articles per month without a subscription
Join now for unlimited access
Try first month for just £1 / $1 / €1