Tech of the week: an aero Cannondale, an Assos jersey and a can of GT85
We've also had new sunnies from Shimano, Belgian cobbles and alloy bikes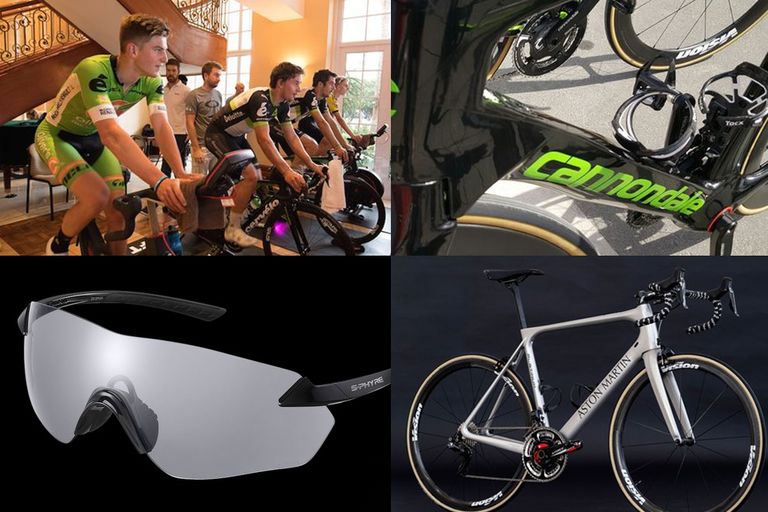 New Cannondale aero bike spotted
We had a first look at Cannondale's new aero road bike last week. It's yet to be launched, but we reckon it will be called the Systemsix. It was raced at the Abu Dhabi Tour by EF Education First-Drapac, complete with disc brakes and a bottle-shielding bulge in the down tube.
Cannondale was a pioneer of aluminium bikes, and its CAAD12 features in our pick of five of the best alloy bikes for 2018.
Last week we also saw for the first time the bikes which two UK based teams will be riding this season. Madison-Genesis will be on the new sub-kilogram Genesis Zero SL, while One Pro Cycling will be on Aston Martin branded Storck Fascenario.3 machines.
New pro clothing
Assos has a new jersey out celebrating its founder and the 40-plus years that the brand has been in business. It features the original curly Assos logo and there's a video of stars from Joop Zoetemelk onwards celebrating the brand's legacy.
Team Wiggins will wear kit from Le Col this year, and we've had a look at their new colours. Also on display was Tom Dumoulin's all-white world champion's time trial skin suit, modelled by the man himself.
Bumpy road news
Meanwhile, Surrey Police isn't any more impressed than we are with the county's cycle lanes. Its Road Policing Unit tweeted its dissatisfaction with them, saying that they are not fit for purpose and are full of potholes. Glad we're not the only ones who have noticed.
But of course, it is the time of year for bumpy roads; we've told you ten ways in which the pros modify their bikes to deal with the cobbles. While if you want to bag a Belgian climb or two yourself, the Helligen cycling app, give you all the stats and, most importantly, tells you how to find each one.
Shimano has extended its S-Phyre premium brand into sunglasses, having already launched top-end shoes and clothing. There's a road-going and an MTB version available, each with three lens options.
This week, we've also rated handlebar tape. And conveniently, we've also got a video showing you how to wrap it. And we've told you what to do with that can of GT85 spray lurking in the back of the bike shed.
Also this week, we've told you how to use training software and how the pros use indoor training too.
Plus, we've had the usual bargains and deals to tempt you again.