Tech of the week: Conti GP5000, eTap 12 speed and good and bad advice
Also new shorts and saddles, new Sufferfest videos and cycling in the wind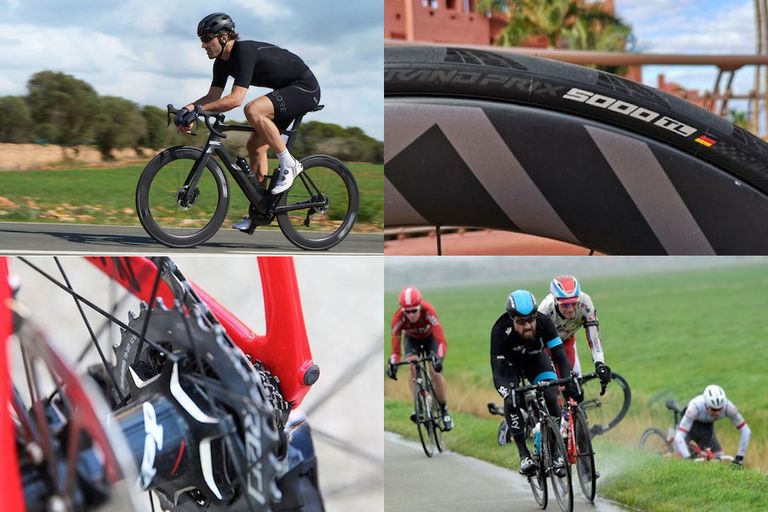 New Conti tyres and 12-speed SRAM eTap
It seems as if we've been rolling around on our Continental GP4000 tyres for ever. It's actually 14 years since Conti brought them out. Now there's the GP5000. As well as the familiar clincher, there's now a tubeless tyre. Both have decreased rolling resistance, increased puncture protection and the clincher is lighter too. We've taken them for a spin on Tenerife.
We've already had a 12-speed groupset from Campagnolo (and a 13-speed one from Rotor). Now it looks as if SRAM will be next to join the 12-speed breakaway. Spy shots on Instagram this week show eTap paired with a 12 speed cassette, which has a 10 tooth smallest sprocket.
Specialized has introduced a new women's version of its Power saddle this week. There are three different foam densities in the top and the saddle comes in three widths and four versions, to help you find your perfect perch.
Also new this week is Gore Wear's range of three C7 bibshorts. Gore has centred its design around the pad and the bibstraps, to aim for the perfect pad positioning. There are Race, Long Distance and Vent versions for different riders and conditions.
Wind, gradients and strength training
Not only is rain (or snow) a challenge at this time of year, so is wind. We've taken Madison-Genesis directeur sportif Roger Hammond's advice on how to keep upright and keep going. And we've also got 15 pieces of bad cycling advice that you probably don't want to follow.
While if you're looking for indoor adventure, you could always head for The Sufferfest's latest selection of gruelling strength training plans or have a look at our pick of smart turbos. Or you could just go for detraining until the weather improves; we've told you why this is a bad idea.
The Tech of the Month video for November features the latest Shimano S-Phyre shoes, Fulcrum Racing Zero Carbon wheels, CatEye synchronised lights and more. And our Black Friday deals page has had another refresh with the pick of the crop of this week's bargains.
And we've got six deals on autumn essentials and Sunday Trading to keep you well equipped.