Vincenzo Nibali spotted wearing new Rudy Project helmet
New design drops the rear spoiler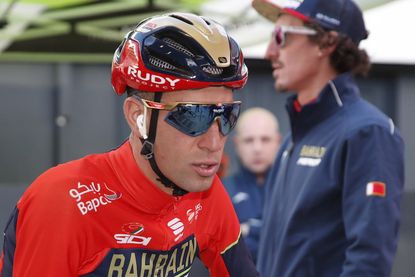 (Image credit: Roberto Bettini)
The Bahrain-Merida team has been wearing the Rudy Project Racemaster helmet in its distinctive gold livery, since the team's founding in 2017. The Racemaster has a distinctive profile, with its boy racer-style go faster spoiler protruding from the rear of the helmet.
Now we've spotted Vincenzo Nibali wearing a different, new Rudy Project helmet at the Bahrain-Merida training camp in early December in Hvar in Croatia. The new helmet has lost the rear spoiler and has a more rounded profile. There's also more of a drop at the rear, behind the ears.
With its semi-enclosed design, we'd reckon that Rudy Project has looked to reap some aero gains from the new design, probably supported by wind tunnel testing. So when the new helmet is officially launched, expect it to be accompanied by some data on watts saved.
The new helmet has also moved away from all-gold to a gold, red and navy blue colour scheme, which reflects the overall colour scheme of the Bahrain-Merida team and most of its team bikes.
Nibali has also swapped the gold Rudy Project Tralyx sunnies which he's been using for a few years for the brand's latest Defender style (we've a review of them in the pipeline). Although we say "latest style", the Defender sunglasses' design is actually based on the brand's Aggressor model, which was first released in 1992.
>>> Is a climber's bike or an aero bike best for a mountain stage of the Tour de France?
Nibali has leader's privileges though in riding a black Merida Scultura lightweight bike. He was also the only rider at the camp who got to ride in the new helmet.
We'll give you more details of Rudy Project's latest lid once we know more.
Thank you for reading 5 articles this month* Join now for unlimited access
Enjoy your first month for just £1 / $1 / €1
*Read 5 free articles per month without a subscription
Join now for unlimited access
Try first month for just £1 / $1 / €1