BinckBank Tour stage two time trial start order
Race leader Peter Sagan is last rider off for Tuesday's 9km individual time trial at the BinckBank Tour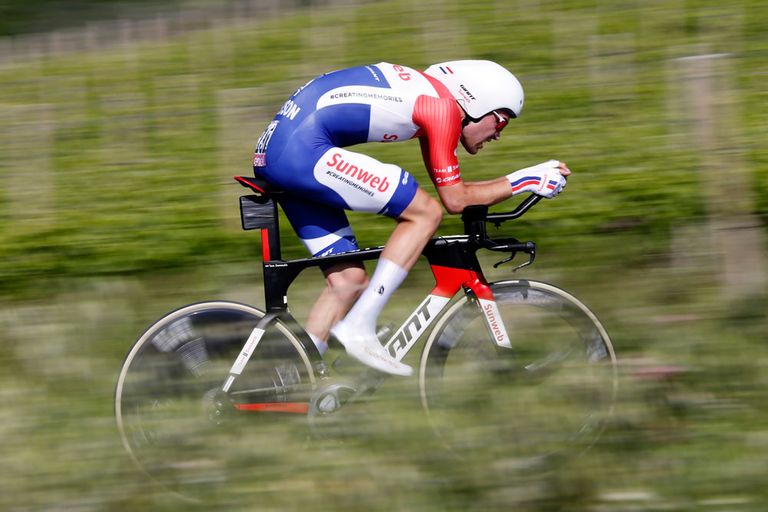 (Image credit: Yuzuru Sunada)
The 2017 BinckBank Tour continues with a short and punchy stage two nine-kilometre individual time trial on Tuesday.
The flat course takes the riders around Voorburg in the Netherlands in what promises to be a fast stage.
Stage one winner Peter Sagan (Bora-Hansgrohe) is the last rider off at 16:33 local time, with Piet Allegaert (Sport Vlaanderen-Baloise) kicking the day off at 13:28.
The first 166 of the 176 riders will set off at one-minute intervals, with the top 10 departing with gaps of two minutes.
Time trial specialists to watch out for are Maciej Bodnar (Bora-Hansgrohe) at 13:29, Alex Dowsett (Movistar) at 13:30, Tom Dumoulin (Team Sunweb) at 13:34, Jos Van Emden (LottoNL-Jumbo) at 13:36, Lars Boom (LottoNL-Jumbo) at 13:42, Jon Dibben (Team Sky) at 13:53, world champion Tony Martin (Katusha-Alpecin) at 14:42 and Ryan Mullen (Cannondale-Drapac) at 15:25.
>>> Peter Sagan wins opening stage of BinckBank Tour after photo finish
However, such a short course could also favour sprinters with a talent for short time trials, such as Marcel Kittel (Quick-Step Floors) or race leader Sagan, who has already said that he will give it everything.
Dowsett stated after the opening stage that he had purposefully finished near last on the stage to ensure an early start time before predicted rain later in the afternoon. Given the mass of TT specialists among the earlier starters, it's evidently a tactic that others have shared.
Note: Start times are given in local time. Subtract one hour for British time.
| | | |
| --- | --- | --- |
| Order | Rider | Start time |
| 1 | ALLEGAERT Piet | 13:28 |
| 2 | BODNAR Maciej | 13:29 |
| 3 | DOWSETT Alex | 13:30 |
| 4 | WELLENS Tim | 13:31 |
| 5 | KLUGE Roger | 13:32 |
| 6 | SIEBERG Marcel | 13:33 |
| 7 | DUMOULIN Tom | 13:34 |
| 8 | QUINTANA Dayer | 13:35 |
| 9 | VAN EMDEN Jos | 13:36 |
| 10 | KÜNG Stefan | 13:37 |
| 11 | FARRAR Tyler | 13:38 |
| 12 | VAN AVERMAET Greg | 13:39 |
| 13 | BRÄNDLE Matthias | 13:40 |
| 14 | RENSHAW Mark | 13:41 |
| 15 | BOOM Lars | 13:42 |
| 16 | WEENING Pieter | 13:43 |
| 17 | ANACONA Winner | 13:44 |
| 18 | SCOTSON Miles | 13:45 |
| 19 | TANKINK Bram | 13:46 |
| 20 | KOLÁR Michal | 13:47 |
| 21 | PEDERSEN Mads | 13:48 |
| 22 | GUARNIERI Jacopo | 13:49 |
| 23 | AGNOLI Valerio | 13:50 |
| 24 | THWAITES Scott | 13:51 |
| 25 | CORDEEL Sander | 13:52 |
| 26 | DIBBEN Jonathan | 13:53 |
| 27 | MAES Nikolas | 13:54 |
| 28 | SCHÄR Michael | 13:55 |
| 29 | STAMSNIJDER Tom | 13:56 |
| 30 | VAN ZYL Johann | 13:57 |
| 31 | VAUGRENARD Benoit | 13:58 |
| 32 | THOMSON Jay Robert | 13:59 |
| 33 | BURGHARDT Marcus | 14:00 |
| 34 | QUINZIATO Manuel | 14:01 |
| 35 | GANNA Filippo | 14:02 |
| 36 | CURVERS Roy | 14:03 |
| 37 | KEISSE Iljo | 14:04 |
| 38 | PLANCKAERT Baptiste | 14:05 |
| 39 | COLEDAN Marco | 14:06 |
| 40 | TUSVELD Martijn | 14:07 |
| 41 | RAST Gregory | 14:08 |
| 42 | DUIJN Huub | 14:09 |
| 43 | GALLOPIN Tony | 14:10 |
| 44 | DEVOLDER Stijn | 14:11 |
| 45 | DECLERCQ Benjamin | 14:12 |
| 46 | VAN HOOYDONCK Nathan | 14:13 |
| 47 | BENOOT Tiesj | 14:14 |
| 48 | SCHILLINGER Andreas | 14:15 |
| 49 | HOFSTEDE Lennard | 14:16 |
| 50 | SCHMIDT Mads Würtz | 14:17 |
| 51 | KRAGH ANDERSEN Søren | 14:18 |
| 52 | VANENDERT Jelle | 14:19 |
| 53 | VAN AERT Wout | 14:20 |
| 54 | FOMINYKH Daniil | 14:21 |
| 55 | ERVITI Imanol | 14:22 |
| 56 | HENAO GOMEZ Sebastian | 14:23 |
| 57 | SLAGTER Tom-Jelte | 14:24 |
| 58 | GUERREIRO Ruben | 14:25 |
| 59 | LEEZER Thomas | 14:26 |
| 60 | VALGREN ANDERSEN Michael | 14:27 |
| 61 | ROY Jérémy | 14:28 |
| 62 | LAMPAERT Yves | 14:29 |
| 63 | SUTHERLAND Rory | 14:30 |
| 64 | VAN MELSEN Kevin | 14:31 |
| 65 | PIBERNIK Luka | 14:32 |
| 66 | STANNARD Ian | 14:33 |
| 67 | VINCENT Léo | 14:34 |
| 68 | ASSELMAN Jesper | 14:35 |
| 69 | GERRANS Simon | 14:36 |
| 70 | GRUZDEV Dmitriy | 14:37 |
| 71 | WAGNER Robert Thomas | 14:38 |
| 72 | MINALI Riccardo | 14:39 |
| 73 | POLITT Nils | 14:40 |
| 74 | POLANC Jan | 14:41 |
| 75 | MARTIN Tony | 14:42 |
| 76 | THEUNS Edward | 14:43 |
| 77 | PER David | 14:44 |
| 78 | BEWLEY Sam | 14:45 |
| 79 | GOUGEARD Alexis | 14:46 |
| 80 | TERPSTRA Niki | 14:47 |
| 81 | MATHIS Marco | 14:48 |
| 82 | BAGDONAS Gediminas | 14:49 |
| 83 | TEUNISSEN Mike | 14:50 |
| 84 | HEPBURN Michael | 14:51 |
| 85 | IZAGUIRRE Gorka | 14:52 |
| 86 | VAN GOETHEM Brian | 14:53 |
| 87 | BIERMANS Jenthe | 14:54 |
| 88 | PÖSTLBERGER Lukas | 14:55 |
| 89 | VLIEGEN Loïc | 14:56 |
| 90 | INSAUSTI IRASTORZA Ion | 14:57 |
| 91 | MEURISSE Xandro | 14:58 |
| 92 | GASPAROTTO Enrico | 14:59 |
| 93 | SWIFT Ben | 15:00 |
| 94 | VAN DER HOORN Taco | 15:01 |
| 95 | NAESEN Oliver | 15:02 |
| 96 | KOREN Kristijan | 15:03 |
| 97 | VAKOC Petr | 15:04 |
| 98 | SBARAGLI Kristian | 15:05 |
| 99 | BACKAERT Frederik | 15:06 |
| 100 | ROOSEN Timo | 15:07 |
| 101 | PFINGSTEN Christoph | 15:08 |
| 102 | DEVENYNS Dries | 15:09 |
| 103 | BAKELANTS Jan | 15:10 |
| 104 | KEUKELEIRE Jens | 15:11 |
| 105 | KUMP Marko | 15:12 |
| 106 | STUYVEN Jasper | 15:13 |
| 107 | HOULE Hugo | 15:14 |
| 108 | GEOGHEGAN HART Tao | 15:15 |
| 109 | KUZNETSOV Viacheslav | 15:16 |
| 110 | STEELS Stijn | 15:17 |
| 111 | GOOLAERTS Michael | 15:18 |
| 112 | VAN KEIRSBULCK Guillaume | 15:19 |
| 113 | VERMELTFOORT Coen | 15:20 |
| 114 | SELIG Rüdiger | 15:21 |
| 115 | LIGTHART Pim | 15:22 |
| 116 | BICO Nuno | 15:23 |
| 117 | GILBERT Philippe | 15:24 |
| 118 | MULLEN Ryan | 15:25 |
| 119 | DOULL Owain | 15:26 |
| 120 | KRUOPIS Aidis | 15:27 |
| 121 | SMITH Dion | 15:28 |
| 122 | GATTO Oscar | 15:29 |
| 123 | HAMILTON Christopher | 15:30 |
| 124 | DEHAES Kenny | 15:31 |
| 125 | VAN HOECKE Gijs | 15:32 |
| 126 | LANGEVELD Sebastian | 15:33 |
| 127 | EDMONDSON Alexander | 15:34 |
| 128 | JAUREGUI Quentin | 15:35 |
| 129 | VAN HECKE Preben | 15:36 |
| 130 | VANSPEYBROUCK Pieter | 15:37 |
| 131 | VAN GESTEL Dries | 15:38 |
| 132 | BOLE Grega | 15:39 |
| 133 | VIVIANI Elia | 15:40 |
| 134 | KAMYSHEV Arman | 15:41 |
| 135 | LADAGNOUS Matthieu | 15:42 |
| 136 | TLEUBAYEV Ruslan | 15:43 |
| 137 | DELAGE Mickael | 15:44 |
| 138 | ZURLO Federico | 15:45 |
| 139 | DRUCKER Jean-Pierre | 15:46 |
| 140 | KITTEL Marcel | 15:47 |
| 141 | GARCIA CORTINA Ivan | 15:48 |
| 142 | SARREAU Marc | 15:49 |
| 143 | CONSONNI Simone | 15:50 |
| 144 | JANSE VAN RENSBURG Reinhardt | 15:51 |
| 145 | DOCKER Mitchell | 15:52 |
| 146 | RICHEZE Maximiliano | 15:53 |
| 147 | DUVAL Julien | 15:54 |
| 148 | VAN POPPEL Danny | 15:55 |
| 149 | GIBBONS Ryan | 15:56 |
| 150 | WISNIOWSKI Lukasz | 15:57 |
| 151 | BARBIER Rudy | 15:58 |
| 152 | GUARDINI Andrea | 15:59 |
| 153 | VANMARCKE Sep | 16:00 |
| 154 | DUPONT Timothy | 16:01 |
| 155 | VAN BAARLE Dylan | 16:02 |
| 156 | SÜTTERLIN Jasha | 16:03 |
| 157 | ARASHIRO Yukiya | 16:04 |
| 158 | TROIA Oliviero | 16:05 |
| 159 | VAN ASBROECK Tom | 16:06 |
| 160 | VAN LERBERGHE Bert | 16:07 |
| 161 | MERLIER Tim | 16:08 |
| 162 | DEMARE Arnaud | 16:09 |
| 163 | DE BUYST Jasper | 16:10 |
| 164 | PLANCKAERT Edward | 16:11 |
| 165 | GREIPEL André | 16:12 |
| 166 | RICKAERT Jonas | 16:13 |
| 167 | WIPPERT Wouter | 16:15 |
| 168 | ZABEL Rick | 16:17 |
| 169 | VAN POPPEL Boy | 16:19 |
| 170 | GROENEWEGEN Dylan | 16:21 |
| 171 | MCNALLY Mark | 16:23 |
| 172 | NIELSEN Magnus Cort | 16:25 |
| 173 | REINDERS Elmar | 16:27 |
| 174 | BAUHAUS Phil | 16:29 |
| 175 | DE VREESE Laurens | 16:31 |
| 176 | SAGAN Peter | 16:33 |