'Not fit for purpose': CTT axes controversial 3cm rule for time trial positions
The time trial governing body will not sanction riders that fall foul of the controversial rule that seeks to govern how stretched-out a position riders can use in time trials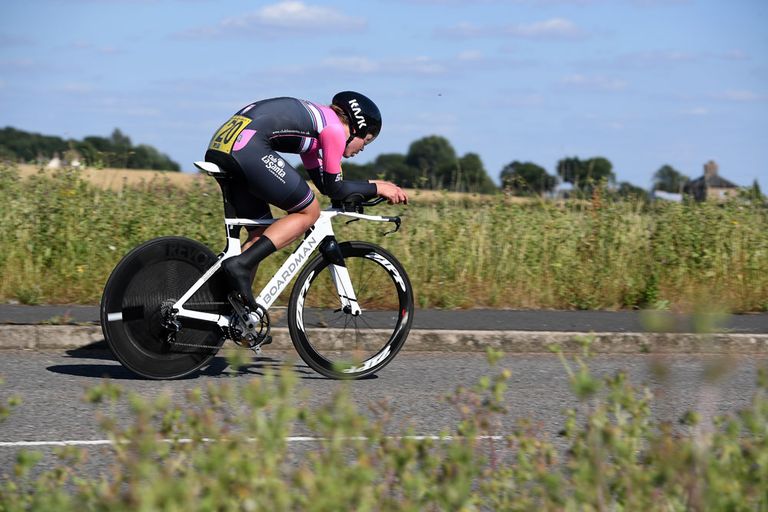 (Image credit: Andy Jones)
Cycling Time Trials has effectively abolished its controversial 3cm rule that governs how stretched-out a position time trialists can adopt on their time trial bike.
The rule states that a rider's elbows must be no more than 3cm ahead of the centre of their head tube.
In a statement released today the CTT board said the rule was "no longer fit for purpose".
They said they had reassessed the rule after looking at photographs of competitors of all genders and abilities at various events and found that "whilst all riders viewed were considered to be riding in a safe manner, there were many who were in breach" of the 3cm rule.
The rule was originally introduced in the 1990s to stop riders adopting the "superman position" which is highly aerodynamic.
However it has proved controversial in recent years as only a small change to position on the bike can, and has, caused riders to fall foul of the rule and be disqualified from time trials while not gaining any significant aerodynamic advantage.
Reacting to the rules abolition on Twitter, Cycling Weekly columnist and prolific time trial champion Michael Hutchinson said: "The '3cm' rule not 'fit for purpose'. Although that is being pretty kind to it."
Fellow time trialist TJ Key tweeted: "3cm rule gone. Flipping hallelujah. #seensense"
While others pointed out that the sudden change in the regulation was frustrating for those that invested money in new kit or sessions to optimise their position, in part, to ensure they complied with the 3cm rule.
In its announcement the CTT board said that although it did not have the authority to alter the rule itself it would introduce a moratorium on applying any sanction to those breaking the rule effectively abolishing it.
But it added in its statement: "The board do however retain the right to apply sanction if a rider is reported as using the 'superman' or the 'tuck' position and/or is riding in a position considered to be unsafe."
The board will then present a proposal to the National Council, the only body that has the authority to change the rule itself, in December this year to either amend or delete the rule.