Women's Tour expands with sixth day for 2019
British Cycling rejected a request for seven days in 2016 but the race has now grown to incorporate one more stage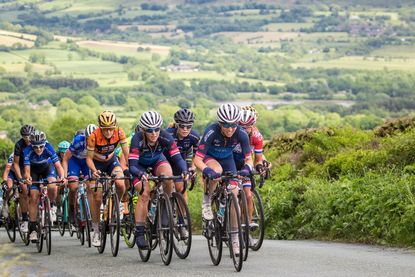 (Image credit: Alex Whitehead/SWpix.com)
The OVO Energy Women's Tour will expand next year to feature six stages - a boost from the five days fans have enjoyed in previous years.
Organisers, the SweetSpot Group which is also behind the men's Tour of Britain, say that the 2014 launched event will continue to form part of the UCI Women's WorldTour in 2019.
The event matches the prize fund offered at the eight day men's race, having been more than doubled for 2018.
This year's edition, won by Coryn Rivera (Sunweb) over Marianne Vos (WaowDeals), brought 14 of the world's top 15 teams to Britain, with a field of 120 riders including Olympic, world, commonwealth and european champions.
The organiser applied for an extension to seven days back in 2016, but confirmed that the request was rejected by British Cycling, despite indications that the UCI was happy to approve the extension.
>>> Amateur riders complete the Tour de France in search of parity for female cyclists
The minutes from British Cycling's board meeting on June 29 state: "It was agreed that the preference would be for the event to remain at five days as it fits with the UCI objective to have a strong calendar of five day Women's events."
Commenting on the successful extension for 2019, Race Director Mick Bennett said: "We are delighted to have been granted a sixth day of racing for the OVO Energy Women's Tour to build upon the success of the first five editions. Teams and riders have been asking us to extend the event and to broaden the range of stages, which the flexibility of a sixth day will enable us to do."
Heath Harvey, Chief Executive of SweetSpot Group, added: "We have worked closely with British Cycling and the UCI to grow the OVO Energy Women's Tour in a sustainable fashion and after the success shown by the first five editions it is only right that the event can visibly grow.
"We are immensely proud that Britain is at the forefront of the growth in women's cycling and the addition of a sixth stage will enable us to take the event to more people than ever before, to showcase women's sport and inspire more people to be active and get on their bikes."
British Cycling's Chief Executive, Julie Harrington, welcomed the additional race day - saying: "This is fantastic news, both for the event and for women's cycling as a whole. We have been very open about our determination to close our sport's historic gender gap, and this is yet another step towards that."
Thank you for reading 20 articles this month* Join now for unlimited access
Enjoy your first month for just £1 / $1 / €1
*Read 5 free articles per month without a subscription
Join now for unlimited access
Try first month for just £1 / $1 / €1