Chris Froome: Data leak only confirms what I previously said
The Tour de France champion says the WADA data breach that saw his information posted online only confirms what he has said in the past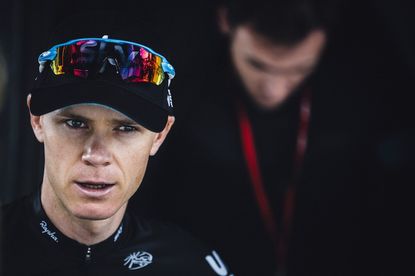 Tour de France champion Chris Froome does not take issue with his data being leaked by Russian hackers over night and says that it only confirms his previous statements on Therapeutic Use Exemptions (TUE).
Team Sky's star and Bradley Wiggins were part a group of 25 athletes who had their data stolen from the World Anti-Doping Agency (WADA) and published by hackers known as 'Fancy Bears'. It was the second such leak this week involving athletes from the 2016 Rio de Janeiro Olympics.
>>> Bradley Wiggins confirms Tour of Britain was his last road race
"I've openly discussed my TUEs with the media and have no issues with the leak, which only confirms my statements," Froome said. "In nine years as a professional, I've twice required a TUE for exacerbated asthma, the last time was in 2014."
Froome did not deny that the four leaked certificates from the Union Cycliste Internationale (UCI) were his.
>>> UK Anti-Doping condemns hack of British athletes' data
In its second data dump, Fancy Bears (Tsar Team APT28) published data on 25 athletes, including five Brits. It published six PDF certificates for Wiggins and four for Froome, concentrated on the 2013 Critérium du Dauphiné and the 2014 Tour de Romandie.
According to the leaked documents, the UCI's medical chief Mario Zorzoli approved corticosteroid prednisolone – 40mg per day for one week – in 2013 and again in 2014.
Already last year, Froome replied to a person on Twitter about his exception certificates or TUEs, saying "I have had 2 during my career."
Froome said at the finish of the 2015 Tour de France that he avoided asking for a TUE to help with an infection that he had because he did not want to create problems.
He told The Sunday Times: "After everything we had been through in this year's Tour, it just felt that if we go down this route, we are opening the door for a whole new wave of criticism and aggression."
In an interview this summer, he expanded on TUEs.
"I think the grey area most people are referring to are TUEs, using substances that aren't banned but do give a performance gain," Froome told the Scotsman. "I've applied for two TUEs in my seven years as a professional. Each was a week long. For two weeks in seven years, I've taken something for medical reasons. I feel quite strongly that you shouldn't be taking anything that you don't medically need."
Team Sky, agreeing with Froome, explained today that the leak showed that they went through the proper channels for the exceptions.
"The Therapeutic Use Exemption (TUE) process, as set out by UKAD, is 'a means by which an athlete can obtain approval to use a prescribed prohibited substance or method for the treatment of a legitimate medical condition,'" Sky said in a statement.
"Applications made by Team Sky for TUEs have all been managed and recorded in line with the processes put in place by the governing bodies.
"Team Sky's approach to anti-doping and our commitment to clean competition are well known."
Thank you for reading 20 articles this month* Join now for unlimited access
Enjoy your first month for just £1 / $1 / €1
*Read 5 free articles per month without a subscription
Join now for unlimited access
Try first month for just £1 / $1 / €1