'I don't believe Team Sky would play with the rules', says new recruit Kenny Elissonde
The young Frenchman says he's already been sent to several meetings about Team Sky's "very strong" anti-doping policy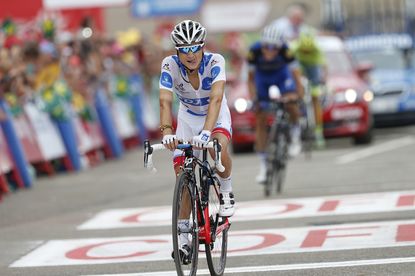 (Image credit: Yuzuru SUNADA)
New Team Sky recruit Kenny Elissonde says he doesn't believe the British squad would bend anti-doping rules to gain an advantage.
The young Frenchman joined up with the squad in the off-season after his signing was announced in late October, and says he has already been in a number of meetings where Team Sky staff have hammered home their anti-doping policy.
>>> 100 Best Road Riders of 2016
Elissonde, 25, transferred to Sky from FDJ where he has spent the whole of his professional career so far, saying that he would find it "bizarre" if Sky encouraged any unscrupulous practices, after what he has already experienced in his first days with the team.
Team Sky were drawn in to controversy over Therapeutic Use Exemptions (TUE) after hackers revealed that Bradley Wiggins had injected a corticosteroid prior to the 2012 Tour de France which he won.
There has been no indication of wrongdoing, with authorities granting the use of the substance to Wiggins at the time to treat allergies.
"It's bizarre [the Wiggins revelation] because there's a very strong anti-doping policy on the team," Elissonde told French sports paper L'Equipe.
"We had several meetings to make us aware of that. Even before the contract negotiations, I had to send my biological passport to show that everything was okay.
"I would be the first to be surprised if they played a bit with the rules."
Elissonde, who becomes the first French rider to compete for the team since 2010, comes from a WorldTour squad part of the voluntary group, the Movement for Credible Cycling (MPCC).
The group's rules don't allow riders who require a cortisone injection, like Wiggins had, to race, but Team Sky are not part of the MPCC.
Despite that, Elissonde says he would be "surprised" if he was offered anything like that to aid him in a race, saying he doesn't believe those on the team would push for that "type of behaviour".
"Based on what I've seen of the team, I don't believe that it could have encouraged this type of behaviour. To me that doesn't seem consistent with what Dave [Brailsford] says – he is 100 per cent anti-doping. If I re-read Brad's remarks from the period, he was just as strongly against doping. In France, it was different. We had slightly different rules with the MPCC. It was unthinkable to do the Tour de France like that."
"I would be very surprised if the team offered that to me. And that's not a corporate remark because I'm being paid by Team Sky."
Thank you for reading 5 articles this month* Join now for unlimited access
Enjoy your first month for just £1 / $1 / €1
*Read 5 free articles per month without a subscription
Join now for unlimited access
Try first month for just £1 / $1 / €1