Ellen van Dijk wins European Championships time trial as Hayley Simmonds snags eighth
Simmonds secured eighth place whilst the Dutch took first and second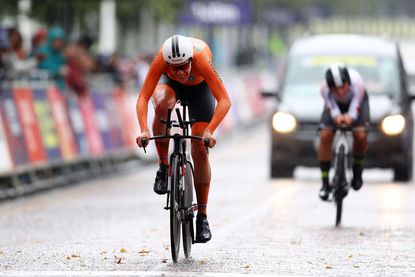 Ellen van Dijk (Netherlands) is once again the European time trial champion, having blasted through the streets of Glasgow ahead of her compatriot, Anna van der Breggen.
There was just two seconds between the pair, with Van Dijk - who took the honour in 2017 and 2016 as well - the fastest rider through every one of three checkpoints to average 46 kilometres per hour, completing the course in 41-29.
>>> European Road Championships 2018: all you need to know
Van der Breggen maintained second place throughout the checks, but the defending Olympic road race champion never able to best her team-mate.
Third place went to two time UCI team time trial world champion, Germany's Trixi Worrack - who was 1-09 down on the winner.
British Cycling opted to put forward just one female representative for the event - electing 2015 and 2016 national time trial champion, Hayley Simmonds who turned pro in 2016.
Simmonds was initially recorded as coming 10th, but the results were later revised following a timing error.
This year's national champion in the discipline, Hannah Barnes is still recovering having broken her left collarbone earlier in the season.
Downpour in Glasgow made the day difficult for many riders, but the Dutch seemed immune on the undulating 32 kilometre course.
At the first check point, Van Dijk crossed three seconds ahead of her team-mate Van der Breggen.
Comparatively, 2014 world time trial champion Lisa Brennaur (Germany) was 40s down, then 1-28 by check point two.
Brennaur finished the event in 14th overall - though the championships have been successful for her elsewhere, with a gold medal in the track individual pursuit and bronze in the road race.
Worrack, who was one of the first on the course, entered the first check point at 8km in sixth place. However, by the second at 16km she'd moved into third - the position she maintained until the end.
Audrey Corden Ragot (France) rode through check point one in third place, but slipped in the kilometres that followed to take fourth in the end.
Simmonds entered the 8km check point in 10th. At 16km, she had moved up to seventh, dropping to eighth at 24km. She stopped the clock at 44-07, with an average speed of 44kph.
Simmonds broke her elbow at the Women's Tour early in the season, rendering her unable to race the British National time trial.
She commented after the wet race in Glasgow: "I'm pretty pleased with how I rode - I wasn't where I wanted to be coming into this because of injury setback, so I felt like I had nothing to lose today... I went out hard today and then hoped I could hold on."
Results
European Championships women's time trial: Glasgow (32km)
1 Ellen van Dijk (Netherlands) in 41-39
2 Anna van der Breggen (Netherlands) at 2s
3 Trixi Worrack (Germany) at 1-09
4 Audrey Cordon-Ragot (France) at 1-56
5 Pernille Mathiesen (Denmark) at 2-09
6 Elisa Longo Borghini (Italy) at 2-12
7 Eugina Bujak (Slovenia) at 2-21
8 Hayley Simmonds (Great Britain) at 2-28
9 Ann-Sophie Duyck (Belgium) at 2-29
10 Lotta Lepistö (Finland) at 2-39
Thank you for reading 20 articles this month* Join now for unlimited access
Enjoy your first month for just £1 / $1 / €1
*Read 5 free articles per month without a subscription
Join now for unlimited access
Try first month for just £1 / $1 / €1