Giro d'Italia 2018 jerseys unveiled
New version of the coveted maglia rosa is revealed by the Giro d'Italia organiser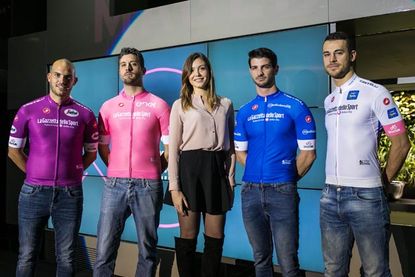 (Image credit: RCS Sport)
RCS Sport, organiser of the Giro d'Italia, unveiled the designs for the four classification jerseys of the 2018 edition of the Italian Grand Tour on Monday in Milan.
The four jerseys feature an uncluttered design by Castelli, and are made from aerodynamic and lightweight fabric. The sleeves feature a 3D logo.
According to RCS Sport, each jersey weighs just 124 grams.
The jerseys were unveiled at the end of Milan Fashion Week at the Gessi Milano in the centre of the city.
The four classifications are: maglia rosa (pink jersey) for the overall race leader; maglia ciclamino (cyclamen jersey) for the points classification leader; maglia azzurra (blue jersey) for the King of the Mountains leader; and maglia bianca (white jersey) for the best young rider.
Paolo Bellino, RCS Sport managing director commented: "The return of such a prestigious and internationally popular brand like Castelli at the Giro d'Italia makes us very happy and highlights once again the global appeal of the race.
"On the new wonderful jerseys we will showcase prestigious brands such as Enel, Segafredo, Banca Mediolanum and Eurospin, our partners for a number of years and an important part of our project. We would also like to thank them, and I would like to mention TAG Heuer, the Giro's Official Timekeeper, who, since last year is our companion in the national and international scene and who today, in this amazing location, has provided the countdown to the Giro 101."
http://www.youtube.com/watch?v=WWVoFpEyh_I
The 2018 Giro d'Italia – the 101st edition of the race – will take place over May 4-25. Tom Dumoulin (Team Sunweb) wore the final maglia rosa of the 2017 race to claim his first Grand Tour victory.
At the same time as the jerseys were presented, the race also announced that Alice Rachele Arlanch – Miss Italia – would be the 2018 'Madrina'.
Thank you for reading 20 articles this month* Join now for unlimited access
Enjoy your first month for just £1 / $1 / €1
*Read 5 free articles per month without a subscription
Join now for unlimited access
Try first month for just £1 / $1 / €1