Italian Champion Visconti loses temper in Giro sprint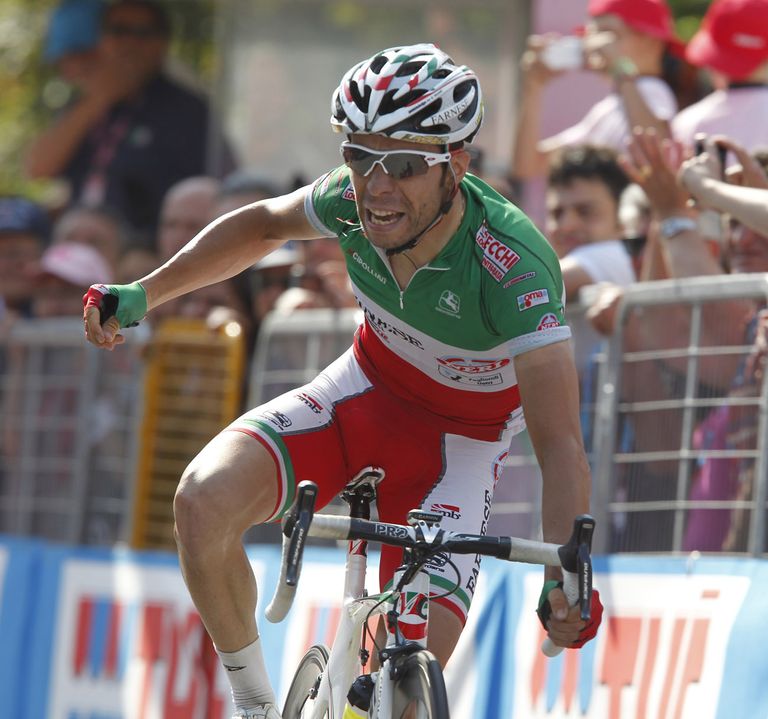 Italian Champion, Giovanni Visconti lost his temper today and his chance to win a Giro d'Italia stage. In Tirano, one of the furthest points north from his home in Sicily, he pushed rival Diego Ulissi in the sprint.
"Crazy, crazy, I had to do that. I yelled at him 10 times, the more I yelled, the more he closed. I had to raise my hand to hold it. If not, what was I to do?" he told Cycling Weekly at the finish line.
"Illegal? It's a risk, but it's a risk when someone knocks me off."
Race rules are clear, if a rider takes his hands off his handlebars in the sprint, he's disqualified. Team Farnese Vini's Visconti squeezed between the barrier and Ulissi's left side and won the sprint. Moments later, though, the race jury annulled his result.
"Ulissi maintained his line," said the president of the jury, Thierry Diederen. "The Italian champion has been disqualified."
It moved Ulissi to first and Visconti to third, behind Spain's Pablo Lastras (Movistar). It also fined Visconti 200 Swiss Francs or £140 (€162).
Visconti and Ulissi (team Lampre) were part of a 16-man escape in the 17 leg from Feltre to Tirano, 230 kilometres. As the race descended down the Aprica pass towards Tirano, the two moved free with Jan Bakelants (Omega Pharma) and Lastras.
Italy's Ulissi started the sprint down the left side of the finishing straight. Visconti responded on the right, but switched to the left side. As he moved up on Ulissi, the problems began.
"The sprint? A mistake. He selected the most complicated part of the road to pass, but if Ulissi hadn't changed his line he would have won without a problem," Farnese Vini's sports director, Luca Scinto told Cycling Weekly.
"Diego closed it lightly and didn't maintain his line. Clearly, if you take your hands off the bars, then you are going to be disqualified, those are the rules. I'm sorry, he's the Italian champion and for him to win in the 150th anniversary of Italy at the Giro d'Italia would have been fantastic."
Ulissi said on television after the stage that he believed he held his line.
Visconti is twice Italian Champion and dearly wanted to win take his first win since this spring at the GP Lugano. The Giro d'Italia guaranteed his Farnese Vini team the right to race the Giro d'Italia early, in November and ahead of the race, and gave him race number 150 in honour of Italy's anniversary.
A doping investigation linked to Lance Armstrong's former trainer, Michele Ferrari almost saw Visconti miss the Giro. On April 21, police searched the homes of Visconti, team-mate Diego Caccia and Sky's Morris Possoni. Italian prosecutor Benedetto Roberti in Padova ordered the search as part of his new, international investigation of Ferrari.
In 2006, the Italian courts cleared Michele Ferrari of criminal charges accusing him of distributing doping products, but the Italian Olympic Committee (CONI) banned him from working with UCI-licensed cyclists in Italy.
Giro d'Italia 2011: Latest news
Giro changes again as final Milan time trial shortened
What riding the Giro has done for Peter Kennaugh
Millar's time trial practice run
Nibali gives up hope for Giro d'Italia win
Contador ignores Armstrong doping investigation
Giro d'Italia News Shorts (May 24)
Controversial Crostis climb removed from Giro route
Sky leader Lofkvist loses more time at the Giro
Giro contenders struggle with Contador's dominance
Contador widens Giro advantage but Tour doping case waits
Porte reflects, one year after Giro success
Le Mevel goes on attack for Giro's pink jersey
Giro fines Contador for missing press conference
Cavendish responds to 'team car' accusations at Giro
Giro d'Italia News Shorts (May 15)
Giro's Sicilian cyclists proud to face Mount Etna
Contador surprises at Giro with attack ahead of mountains
Contador minds food at Giro as CAS decision nears
Weening supported by Rabobank and model Kroes
Local lad Appollonio bears fruit in Fiuggi
Giro d'Italia News Shorts (May 12 edition)
Blythe finding way in second Grand Tour
Leopard-Trek withdraws from Giro d'Italia
Leopard-Trek uncertain to continue in Giro
Tuesday's Giro stage in memory of Weylandt
Giro doctor describes actions to save Weylandt
Wouter Weylandt killed in Giro crash
Giro news shorts (May 8)
Cavendish likely to take Giro lead tomorrow
Giro 2011: Who will win?
Giro d'Italia 2011: Stage reports
Stage 17: Ulissi prevails in controversial Giro sprint
Stage 16: Contador lords it over the rest in Giro TT
Stage 15: Nieve wins mountain marathon as Contador continues at the top
Stage 14: Anton conquers Zoncolan in shortened stage
Stage 13: Contador consolidates Giro overall as Rujano takes stage
Stage 12: Cavendish holds off Appollonio to take second victory
Stage 11: Gadret grabs dramatic stage win
Stage 10: Cavendish opens his Giro account
Stage nine: Contador storms Etna to take Giro lead
Stage eight: Gatto springs late attack to take win
Stage seven: Neo-pro De Clercq wins by a whisker
Stage six: Ventoso steals Giro stage six win
Stage five: Weening holds on to take stage and maglia rosa
Stage four: Tearful Farrar and Leopard-Trek lead riders across stage four finish line
Stage three: Vicioso victory overshadowed by Weylandt crash
Stage two: Petacchi wins as Cavendish takes lead
Stage one: HTC-Highroad wins Giro's opening team time trial
Giro d'Italia 2011: Photo galleries
Stage 17 photo gallery by Graham Watson
Stage 16 photo gallery by Graham Watson
Stage 15 photo gallery by Graham Watson
Stage 14 photo gallery by Graham Watson
Stage 13 photo gallery by Graham Watson
Stage 12 photo gallery by Graham Watson
Stage 11 photo gallery by Graham Watson
Stage 10 photo gallery by Graham Watson
Stage nine photo gallery by Graham Watson
Stage eight photo gallery by Graham Watson
Stage seven photo gallery by Graham Watson
Stage six photo gallery by Graham Watson
Stage five photo gallery by Graham Watson
Stage four photo gallery by Graham Watson
Stage three photo gallery by Graham Watson
Stage two photo gallery by Graham Watson
Stage one photo gallery by Graham Watson
Giro d'Italia 2011: Live text coverage
Giro d'Italia stage 16 live text updates
Giro d'Italia 2011 stage 13 live text updates
Giro d'Italia 2011 stage 11 live text updates
Giro d'Italia 2011 stage seven live text updates
Giro d'Italia 2011 stage five live text updates
Follow the 2011 Giro d'Italia live with Cycling Weekly
Giro d'Italia 2011: Start list
Giro d'Italia 2011: Start list
Giro d'Italia 2011: TV schedule
Giro d'Italia 2011: British Eurosport TV schedule
Related links
Giro d'Italia 2010: Cycling Weekly's coverage index