'Legend' Lloyd wins his first Giro d'Italia stage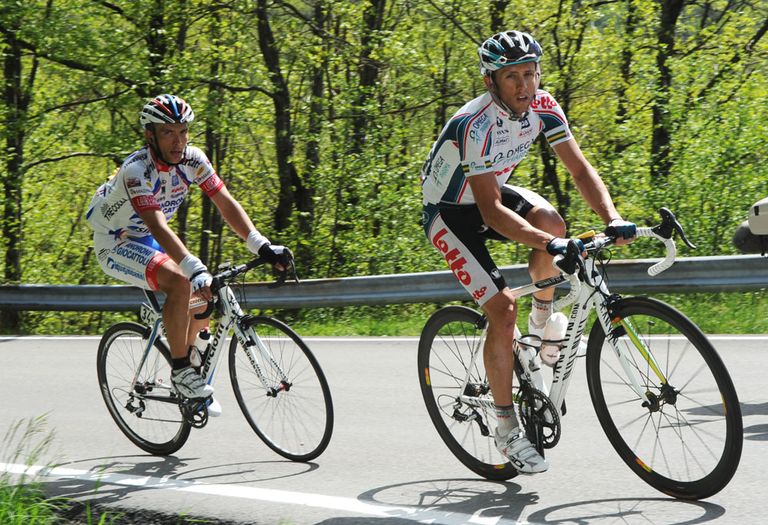 "The guy is a legend," were the first comments from Matthew Lloyd's team-mate Charly Wegelius in the sunny seaside town of Marina di Carrara today.
Lloyd had just won the sixth stage of the Giro d'Italia, his first win since the Australian championships in January 2008. He won it in style, too, attacking early into the mid-mountain stage and going solo with 11 kilometres to race.
"He does things his own way in life," continued Wegelius "You can see when people let him get on with his things and roll how he wants to roll, he comes up with the goods."
The goods? His first stage win in a Grand Tour and the green jersey of best climber.
"Today, it was just the characteristics of the stage, the time to make a move," Lloyd explained. "At the end of the day, in cycling, that counts for everything, because if you don't make your move nothing happens."
If you know Lloyd, you would not have known he had won a stage. His is always happy. That is what Wegelius was getting at, Lloyd walks on his own path and races how he wants to race.
"Everyone says it's about the data and the analysis in cycling. I have never looked at it that way, I never will. The race is about the emotions."
Still, Lloyd, 27 years old in two weeks, is watching the numbers. He wants to win a Grand Tour before he retires.
Cadel Evans brought Lloyd to Predictor-Lotto, as it was known in 2007, to help in the Grand Tours. Last year, Lloyd gave his all for Evans at the Tour de France, but this year, Evans is with BMC Racing and Lloyd has his freedom.
He started the day 11'13" back in the overall classification and moved 1'39" closer to leader Vincenzo Nibali (Liquigas-Doimo) by the end of the day, but more importantly, he gained a stage win. The overall race can wait.
"The beauty of this race, even if you are an hour and half down in the first week, you can be in the top five within three days because it is complete chaos and distraction. Even today, though I did not anticipate destruction, I may have cause some along the way.
"The classification was not for me this year, and I still believe that. As you can see, winning a stage can mean more than coming second after three weeks."
Related links
Giro d'Italia 2010: Cycling Weekly's coverage index
2010 Giro d'Italia coverage in association with Zipvit