Martin aims for Giro d'Italia's third week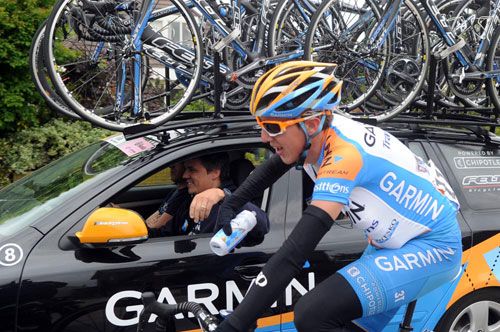 "I have no idea [about the climbs], so it will be great and fun. I have not previewed any of them because I had such short notice that I was racing the Giro d'Italia. I was at the presentation last year, but that was about it."
The first mountain top finish is stage eight to Monte Terminillo, but the high Dolomites and Alpine mountains appear starting with stage 14 to Asolo.
Dan Martin is aiming to make it to the third week of the Giro d'Italia to have a crack at a stage win or the young riders' white jersey.
The 23-year-old Irishman finished nearly eight minutes down in Monday's stage to Middelburg, but he survived without incident. His Garmin-Transitions team-mate Christian Vande Velde crashed with 30 kilometres to race and abandoned. Today, Vande Velde faces surgery on his fractured collarbone in Antwerp.
"The fight for the white jersey will be in the last week, so that means you have to get through two weeks of racing without losing much time. I just want to get to ride in these first two weeks as best as I can and then assess where I am in the third week.
"Any of the steep stages suit him," White said.
"I would like him to get off the general classification, lose time and go for a stage win. Otherwise, it will be hard for the big guys to let him go free. I do not know if he will do it though. In his head, I know he wants to have a crack at the white jersey."
Related links
Giro d'Italia 2010: Cycling Weekly's coverage index
2010 Giro d'Italia coverage in association with Zipvit
"These days were hard, I am happy not to have crashed," Martin told Cycling Weekly, "there are a lot of guys a lot worse of than me."
The remaining 196 Giro d'Italia riders transferred to Italy last night and enjoyed a day of rest today. Tomorrow is a 33-kilometre team time trial, but Martin is looking forward to the third week, when the mountainous stages will provide a chance for a stage win or gaining ground in the white jersey competition.
General Manager Jonathan Vaughters and Sports Director Matt White asked Martin to ride in the Giro d'Italia team after seeing his progression this spring. The Giro d'Italia is only his second Grand Tour after racing last year's Vuelta a España.