On-bike footage displays a disgusting day at the Giro d'Italia (video)
What's it like to ride in the Giro d'Italia peloton when it's pouring down? On-bike footage from stage 12 of the race gives an insight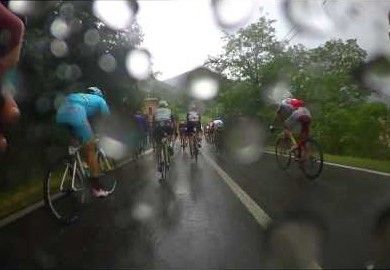 On-bike video footage recorded by riders in the peloton during stage 12 of the 2015 Giro d'Italia on Thursday shows what a foul weather day it was.
The heavens opened consistently throughout the Giro's 12th stage from Imola to Vicenza, soaking the riders and making conditions tough. At several points during the film, you can clearly see the amount of water spray from the wheels of riders splashing all over the camera. Many of the riders are just in regular shorts and short-sleeved jerseys, without rain jackets.
What made things worse was the undulating finale to the day, including a steep ascent to the line which saw Philippe Gilbert (BMC) break free from the bunch and take an almost slow-motion win.
Gilbert's soaking wet BMC team clothing was covered in road grime, and although the winner had a smile on his face other riders did not look so happy - not least Italian contender Fabio Aru (Astana) who looked to be having a bad day, grimacing on the finish line as he realised he'd lost a handful of seconds to race leader Alberto Contador (Tinkoff-Saxo).
>>> Dr. Hutch's guide to the Giro d'Italia time trial (video)
This Giro sees the introduction of the UCI's Extreme Weather Protocol, put in place to protect riders, teams and spectators from adverse weather conditions that raise safety concerns. Although stage 12 was grim, it didn't pose too much of a risk - although we did see several riders slipping and sliding along the route, not least FDJ rider Alexandre Geniez.
WorldTour team organisation Velon has arranged to provide on-bike footage from several stages of the Giro as part of an agreement with race organiser, RCS Sport. The edited films it has been producing give an insight into the inner-workings of the professional peloton, footage which is now becoming more commonplace.
Thank you for reading 20 articles this month* Join now for unlimited access
Enjoy your first month for just £1 / $1 / €1
*Read 5 free articles per month without a subscription
Join now for unlimited access
Try first month for just £1 / $1 / €1